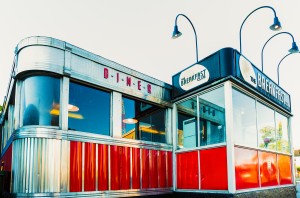 Come in, they're open….and as an added bonus, The Breakfast Club has a parking lot!!
Earlier this week I attended an event that was rescheduled from earlier in the month (who's tired of all this snow!!). The theme for this event was Valentine's Day! I was in good company, Bianca from Confessions of a Chocoholic, Leah from Leah's Life: Pearls and Oysters, Melanie from A Beautiful Bite, Molly from Pop.Bop. Shop, Erik from Thrillist, Devin from Only in Boston, Rachel from Foodista on Pointe, Dan from The Food in My Beard. The Breakfast Club is now serving breakfast for dinner (by reservation only) on the first Monday of every month.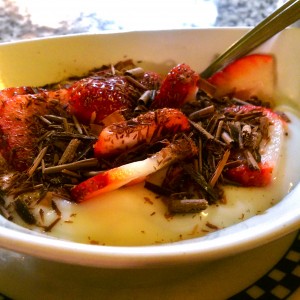 The first course was "Chocolate Dipped Strawberries", strawberries with vanilla yogurt and chocolate shavings. There was fruit in there…makes it healthy right?

I loved every bite of it!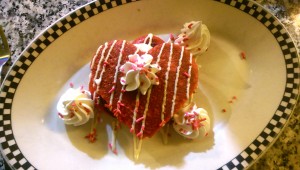 For the second course we moved onto "The Color of Love", red velvet pancakes with cream cheese icing. Now how cute are these pancakes? I could have eaten a dozen of these – they were  THAT good, really light and fluffy. I loved the icing, it was just the right amount of sweetness – not overly so and it didn't fight with the pancakes.
For the third course we moved to something savory – "Opposites Attract" 2 poached eggs on a grilled Stone and Skillet English muffin, 1 topped with smoked salmon and Hollandaise sauce and the other topped with shaved sirloin and their spicy home made Hollandaise sauce. At this point I was feeling pretty full and while I wanted to finish the whole dish, I couldn't. The steak was probably my favorite, I love that spicy Hollandaise sauce…it would be delicious on a variety of dishes, not just this one.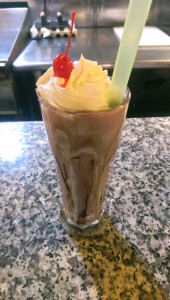 For the final course, we had the "Mini 'Box of Chocolates' Milkshake", chocolate, cherry, caramel, peanuts, and marshmallow swirl all in one shake. Holy food coma! This was a home run! The shake tasted heavy on the peanuts but that wasn't a problem for this girl. A really nice way to end the meal.
The Breakfast Club's regular hours are Monday-Friday 6am-2pm, Saturday and Sunday 7am-3pm. I have  heard that the lines on the weekend can be out the door! It's hard to find a good diner. Owner George Athanasopoulos is the ultimate host. He started his career working at The Diner in Watertown Square, one of my other favorite go to spots. It was his uncle's diner and it  is now owned by his cousin. George bought The Breakfast Club in 2002 and has filled this 70 seat diner with some great 80's memorabilia. I'm already ready to go back: on my list to try – the milkshakes in flavors like Banana Nutella or Reese's or one of the specials like the S'mores French Toast, Gingerbread Waffles, or the Pumpkin Pecan Pancakes. Are you drooling yet?
Check out the next couple of events below. Here's how to get tickets: http://bit.ly/1AUtV1Y
Monday, March 2, 2015
St. Patrick's Day
The Breakfast Club borrows from traditional Irish and St. Patrick's Day fare, but with a quirky spin, offering up breakfast bites like a colorful Lucky Charms Parfait, decadent Bailey's French Toast, and a riff on the classic Corned Beef & Cabbage incorporating it into the diner's scratch-made Corned Beef Hash. Wash it all down with an "Irish Coffee" Milkshake - sláinte!
Monday, April 6, 2015
Easter
Skip the Easter Egg Hunt this year because The Breakfast Club is hoarding them all! Start your meal off with some throwback Deviled Eggs and then ponder the age-old question: Chicken or the Egg? while chowing down on an egg-white omelette filled with grilled chicken. For your Easter sweet tooth, Carrot Cake Pancakes and a Marshmallow Peep Milkshake should do the trick.
Monday, May 4, 2015
Spring
The trees and flowers are in finally in bloom and it's time to rejoice because winter is over. Join The Breakfast Club for homage to springtime featuring a colorful Spring Hash, tropical banana/coconut/pineapple Hummingbird Pancakes, a Fresh Herb Omelette and a garden-inspired Vanilla-Lavender Milkshake. Better pack it all in now before swimsuit season arrives!
Disclaimer: I was invited to this event as a guest of The Breakfast Club. My meal was complimentary, all opinions are my own.
The Breakfast Club
270 Western Ave, Allston, MA
www.thebreakfastclubboston.com
Tags: allston, breakfast, casual dining, lunch, parking, restaurant