I was invited to take photos at the MA Farmers Market event held at the W Hotel this year. Bartenders from local restaurants mixed up cocktails and guests voted on their favorites. The top three bartenders then went on to a CSA mixology throwdown later in the afternoon.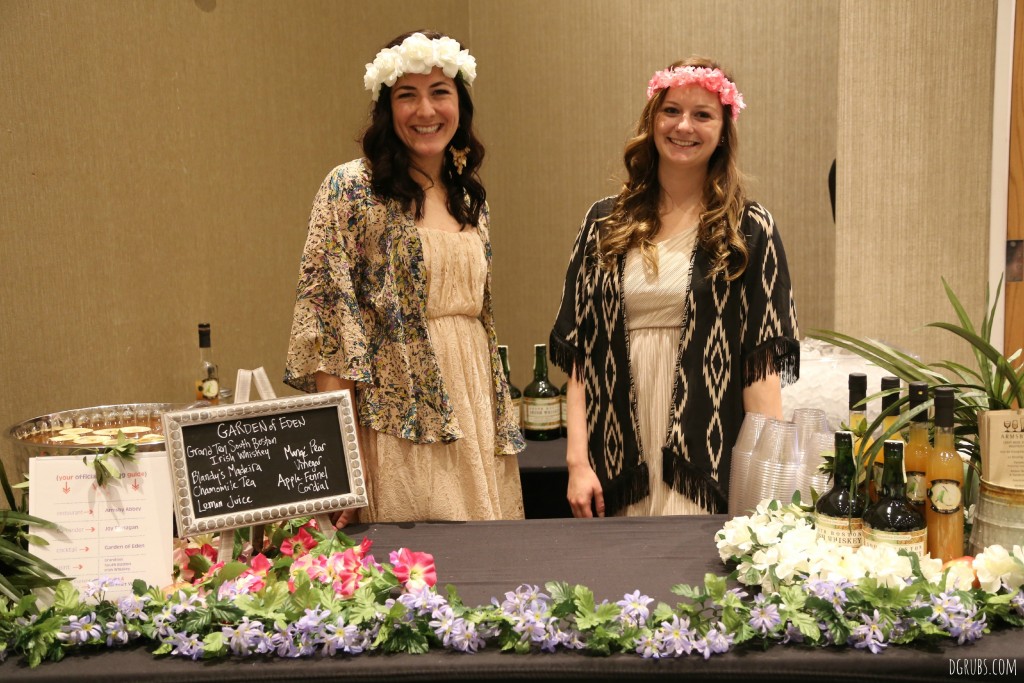 Joy Flanagan from Armsby Abbey mixed up a  "Garden of Eden" cocktail using GrandTen South Boston Irish Whiskey, apples and pear fruit vinegar.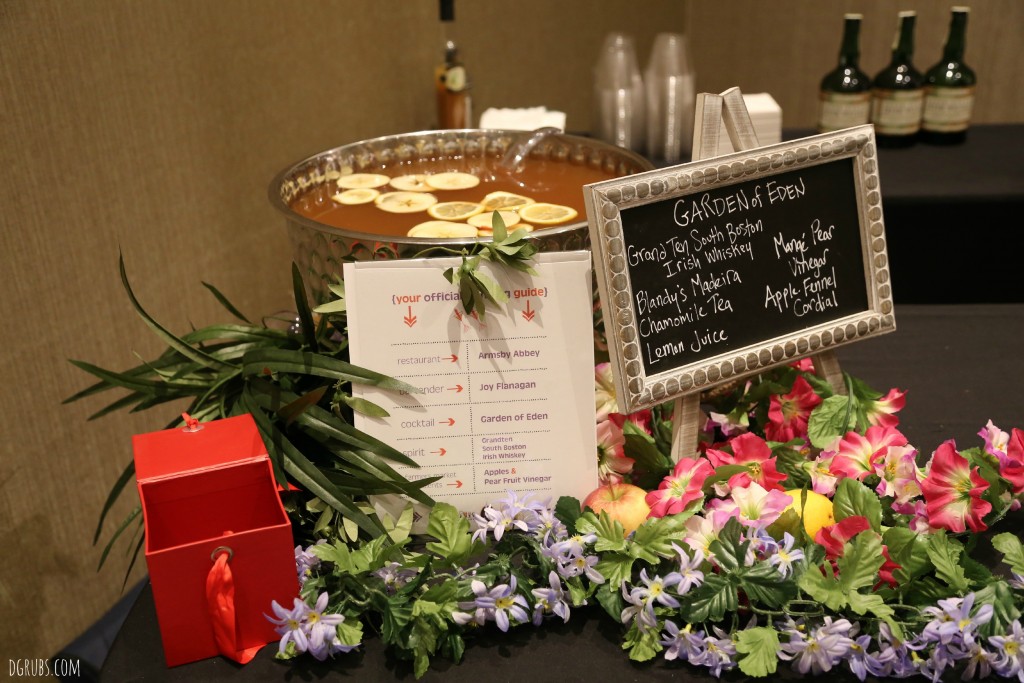 They definitely had the best looking table!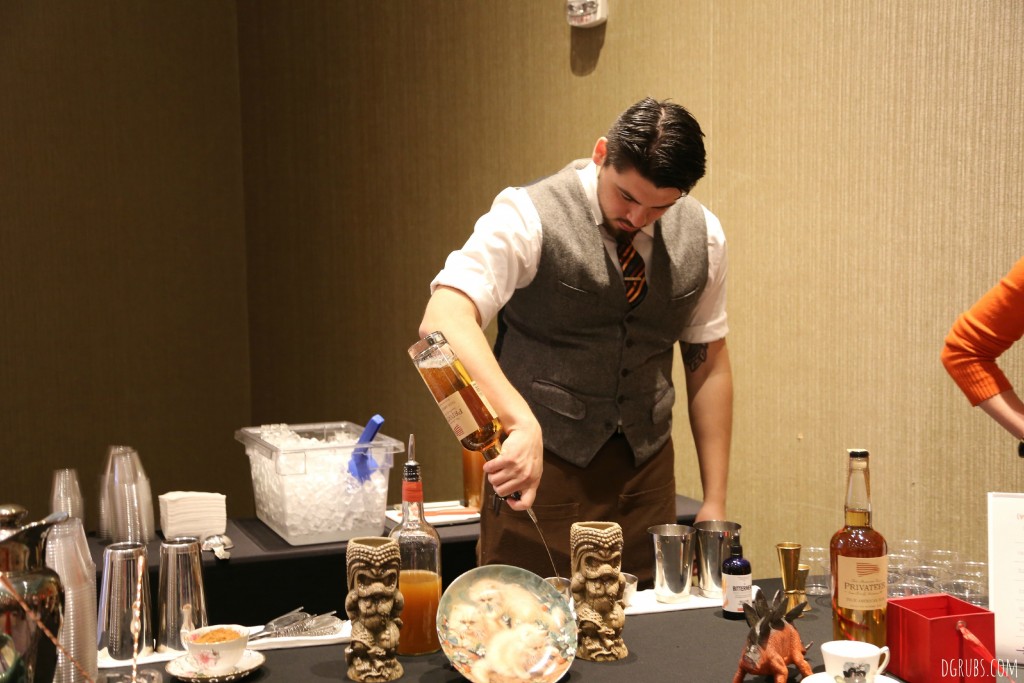 Fairsted Kitchen's Will Isaza mixed up a "Gable's Lean" using Privateer Rum and carrots. Here's the recipe:
1 oz. Privateer True American Amber Rum
3/4 oz. Carrot Za'atar Syrup
1/2 oz. Rye Whiskey
1/2 oz. Sweet Vermouth
1/4 oz. Fresh lemon juice
2 Dashes Hellfire bitters
Combine ingredients into a cocktail shaker with ice. Shake for 10-15 seconds. Strain into cocktail glass. Garnish with grated cinnamon.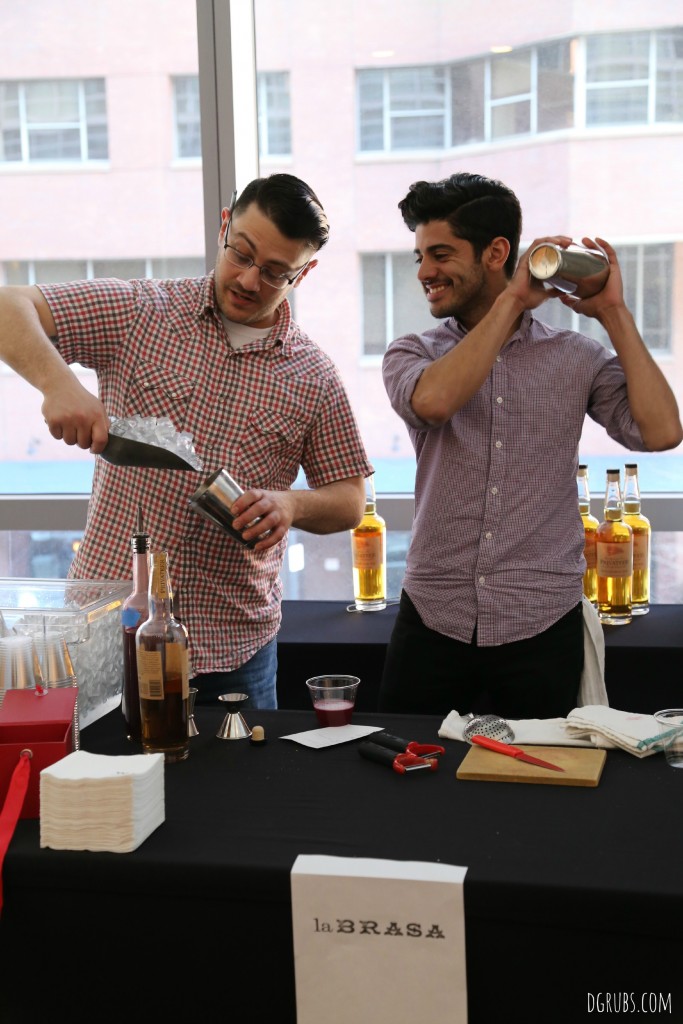 The guys at La Brasa having a little fun!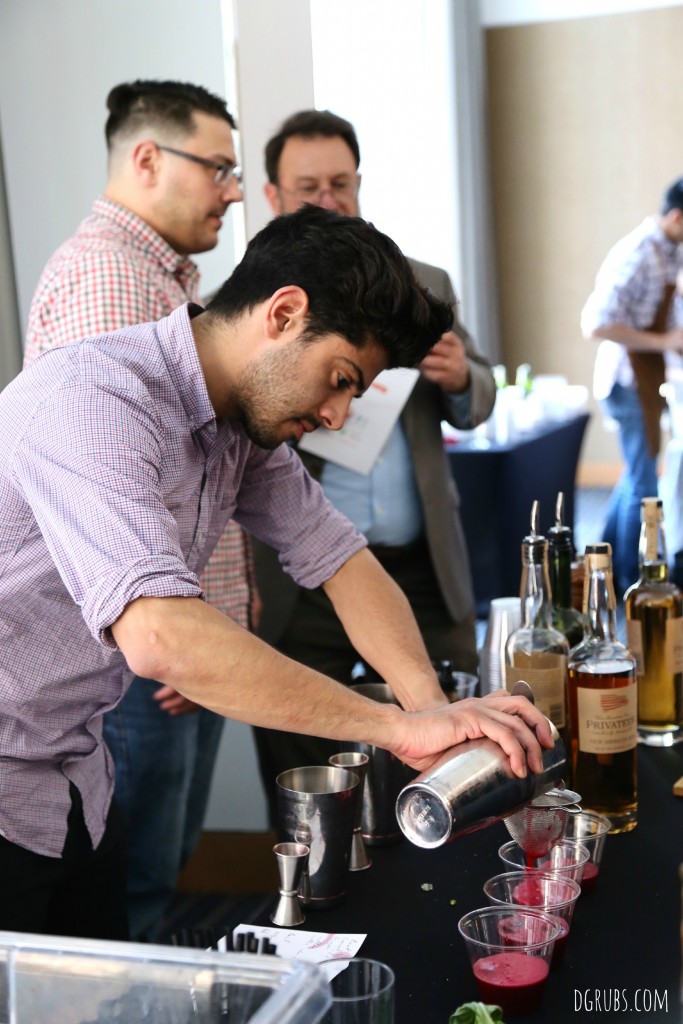 Peter Polselli and Will Jovel of La Brasa mixed up the "Baby Root", using Amber Rum, carrots and beets.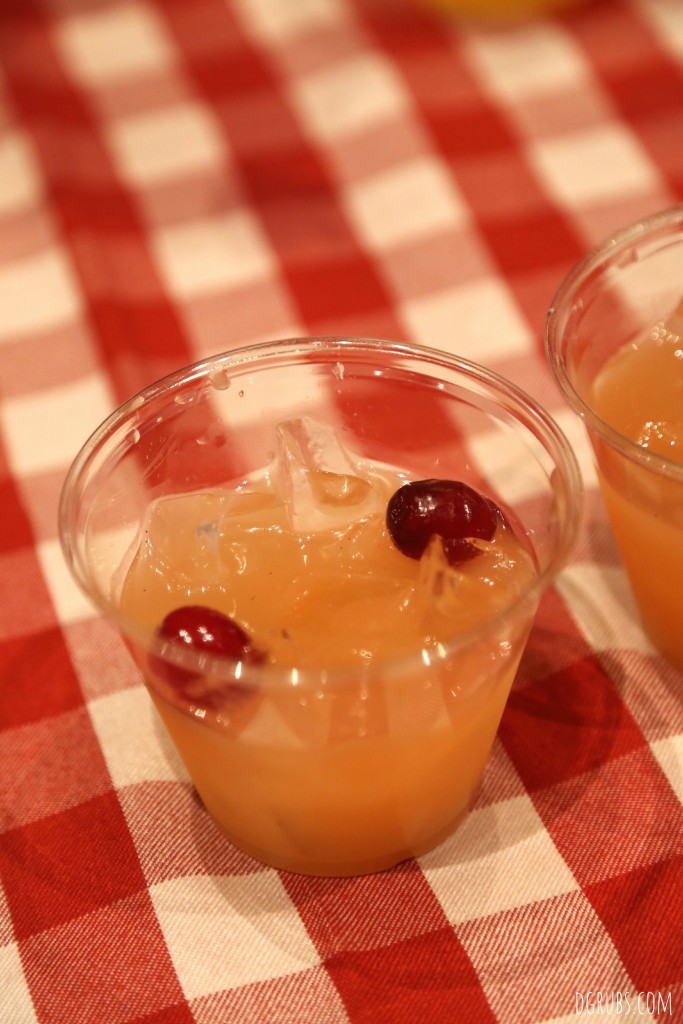 David Spielberg of the Salty Pig mixed up a drink named "The Gilded Age", featuring Privater Reserve Rum, Amber Rum, purple top turnips, cranberries, lemon thyme ginger – and check out those campari gummies!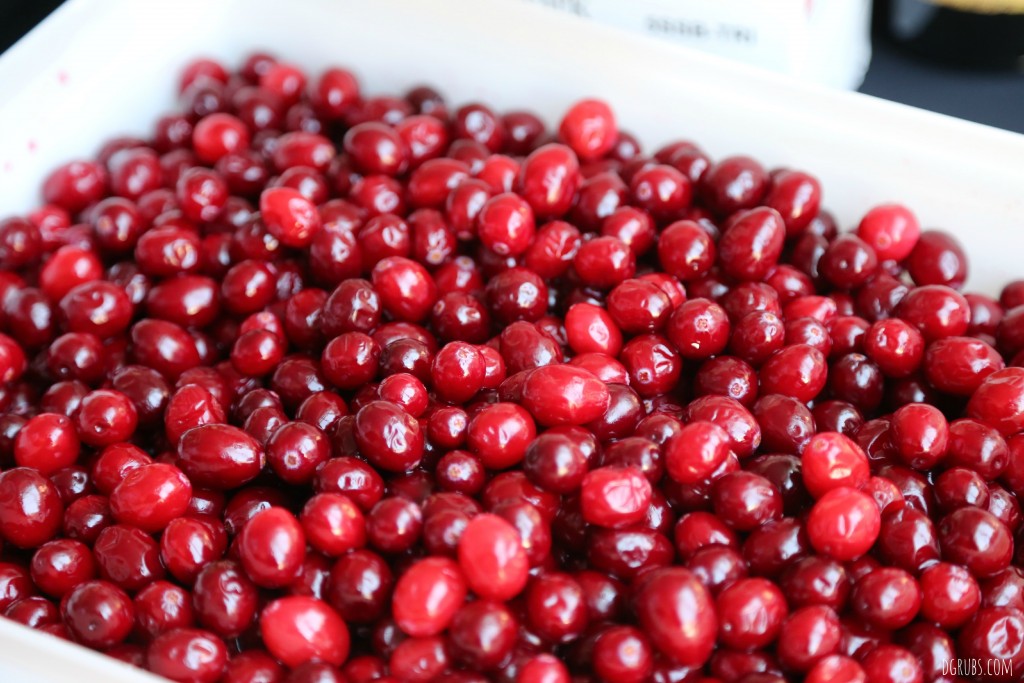 Bartenders were able to use super fresh ingredients, check out these good looking cranberries!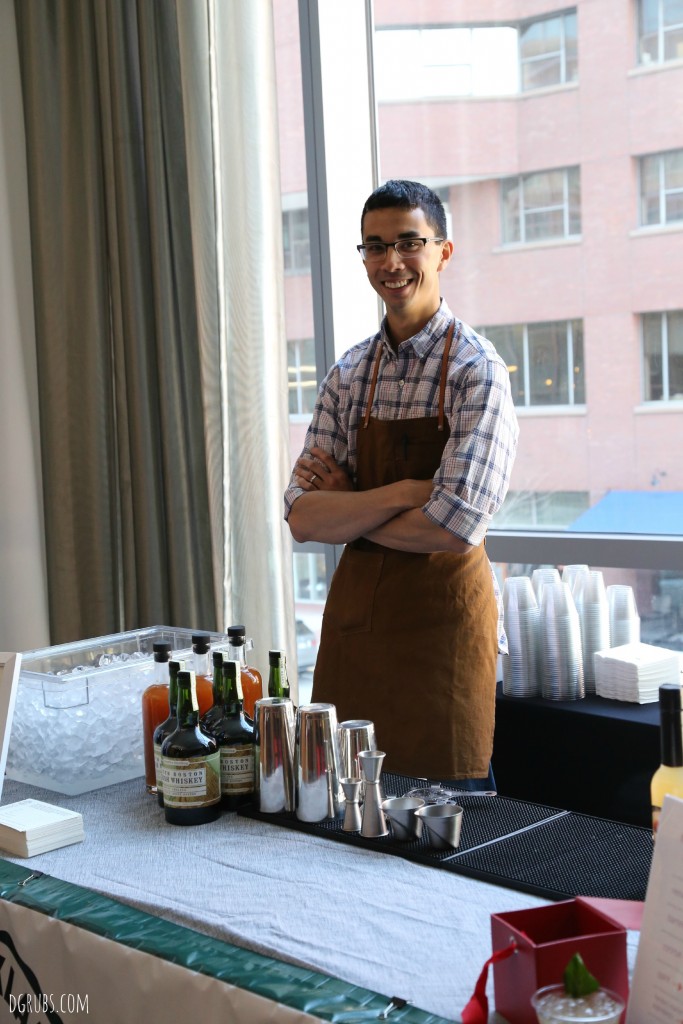 Jason Sadoian from Kirkland Tap and Trotter mixed up the "South Boston Smash" made with GrandTen South Boston Irish Whiskey, cranberries and white peach vinegar.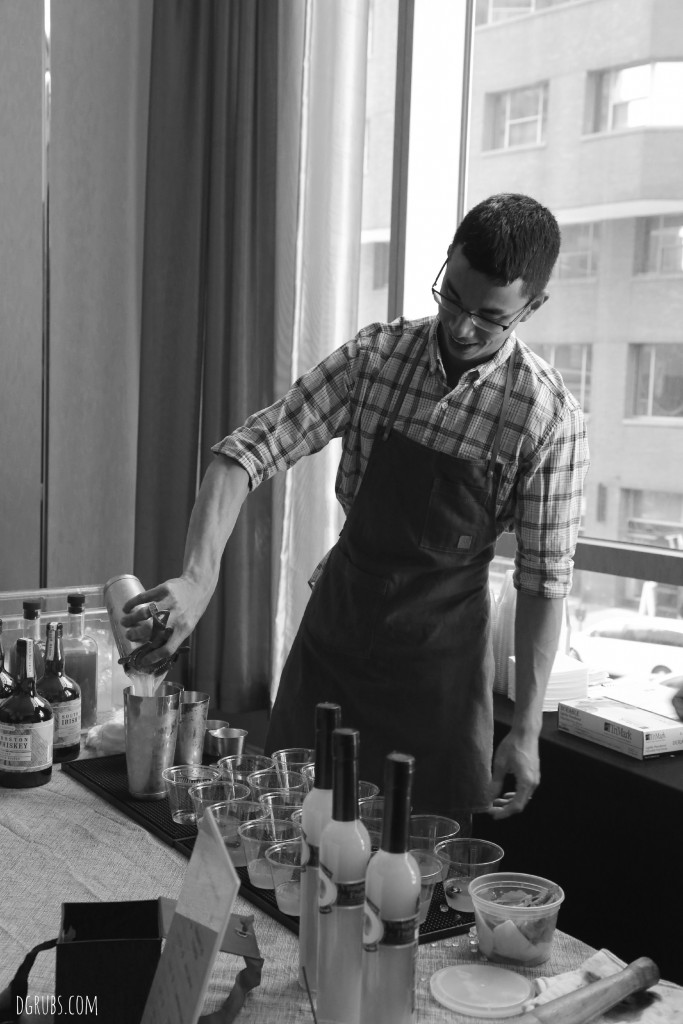 GrandTen located in South Boston, and on Friday nights they do a fun thing called "Friday Night Flights". For $20 you get a tour of the facility and are about the taste their full line of products (along with special, limited-run spirits not available anywhere else). You get to keep your tasting glass as a souvenir! Space is limited as they try to keep the event intimate (20 people). Check out their website for more details.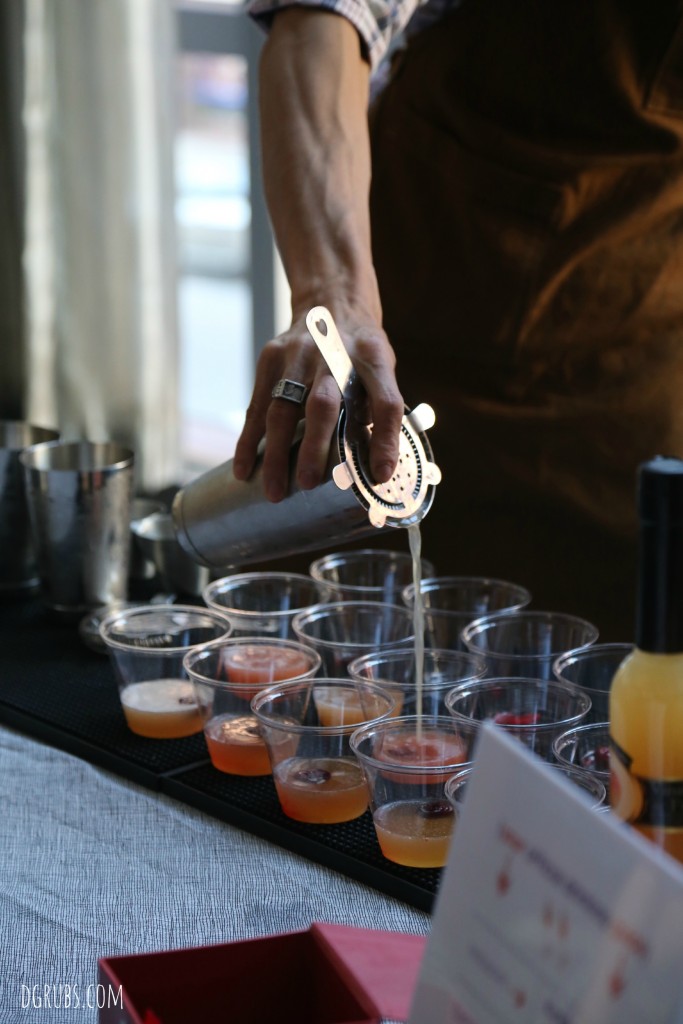 GrandTen makes vodka, whiskey, rum and other spirits. Check out my previous post on GrandTen here.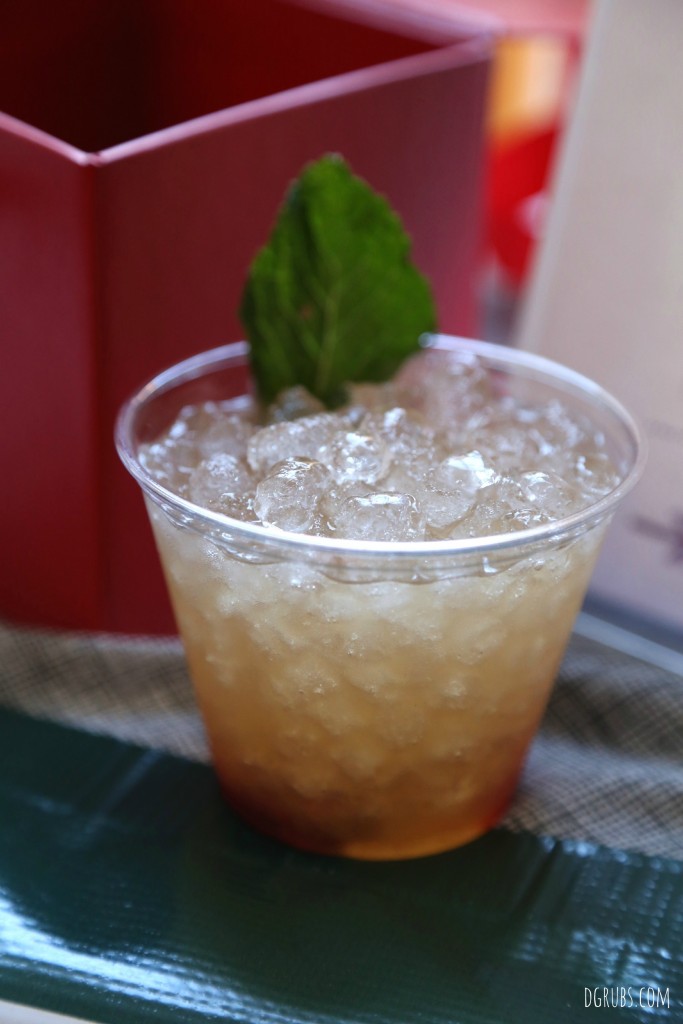 "South Boston Smash".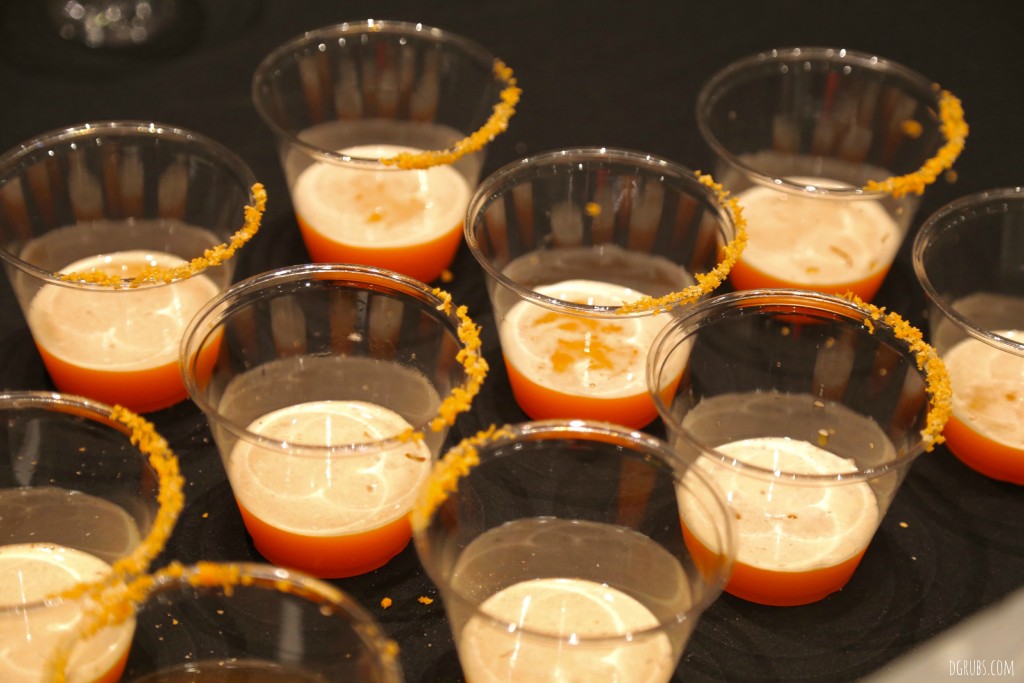 Nadia Heredia from the W mixed up "The Poma" using Dirty Water Distiller Nosh Vodka and rainbow carrots. I love the carrot rim!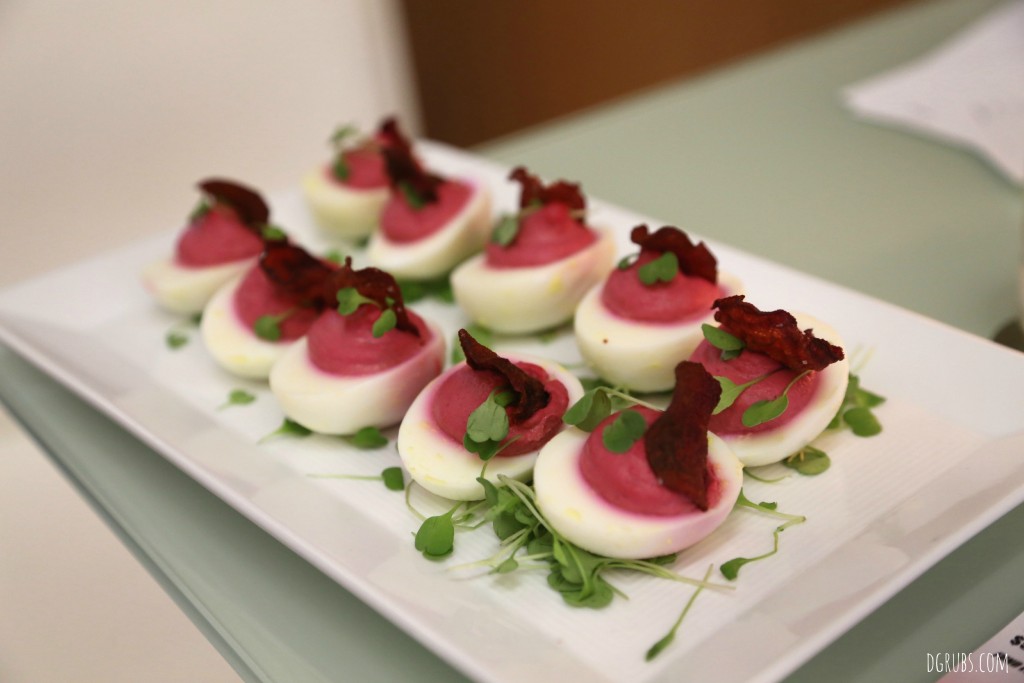 The food was delicious as well. The beet mousse deviled eggs were delicious.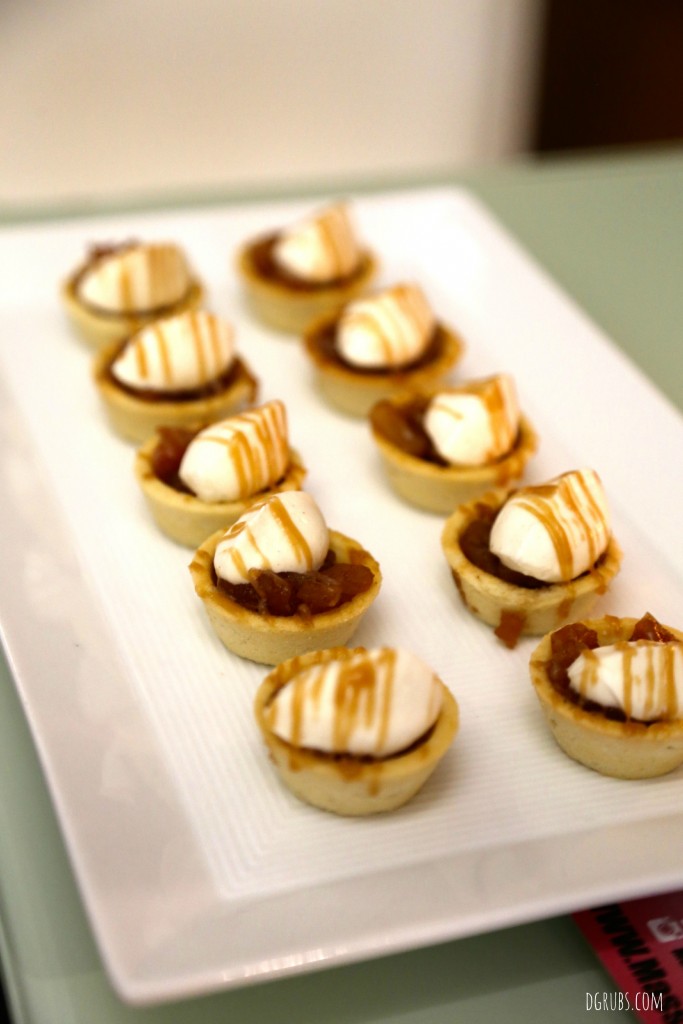 Apple tarts were quick to disappear!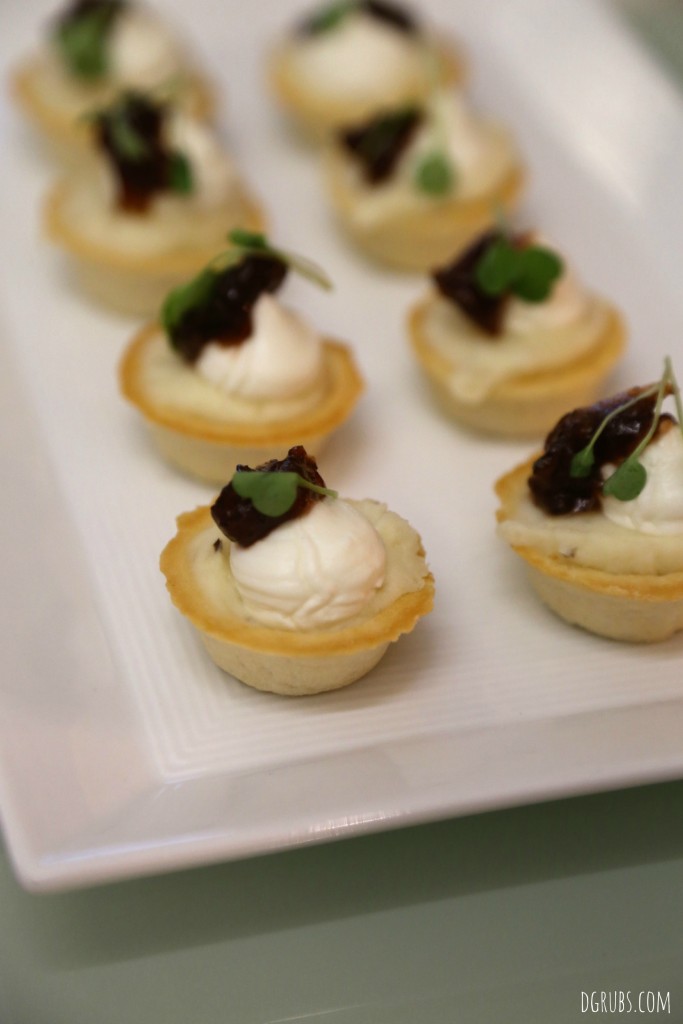 The goat cheese tarts were also a crowd favorite.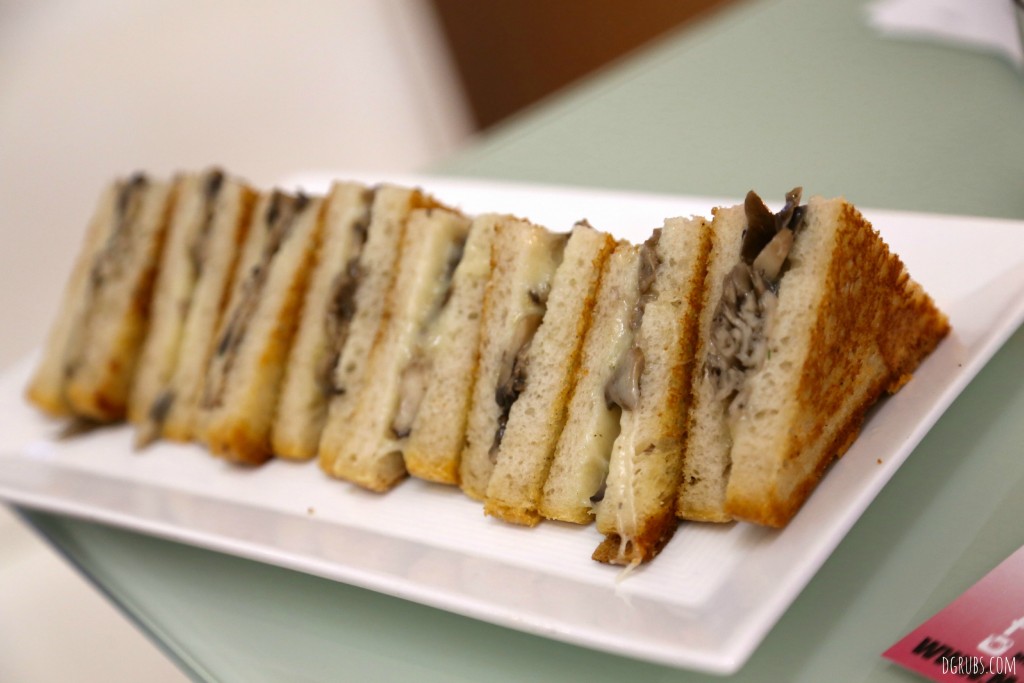 My favorite were the truffle mushroom grilled cheeses.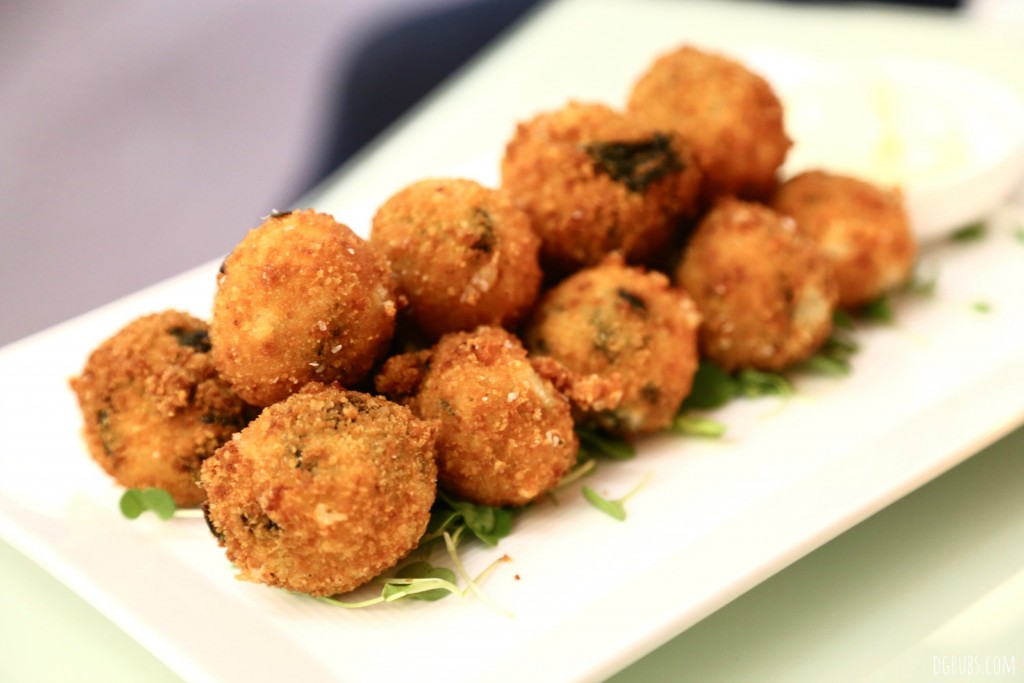 Didn't have a chance to try the arancini, but they looked delicious.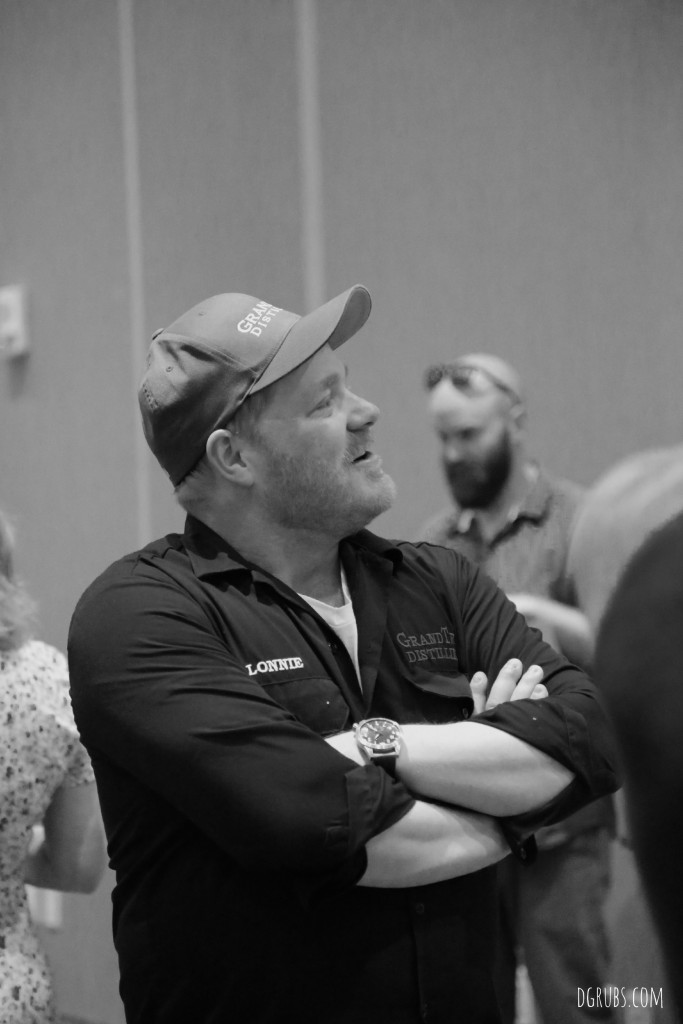 Lonnie from GrandTen Distillery.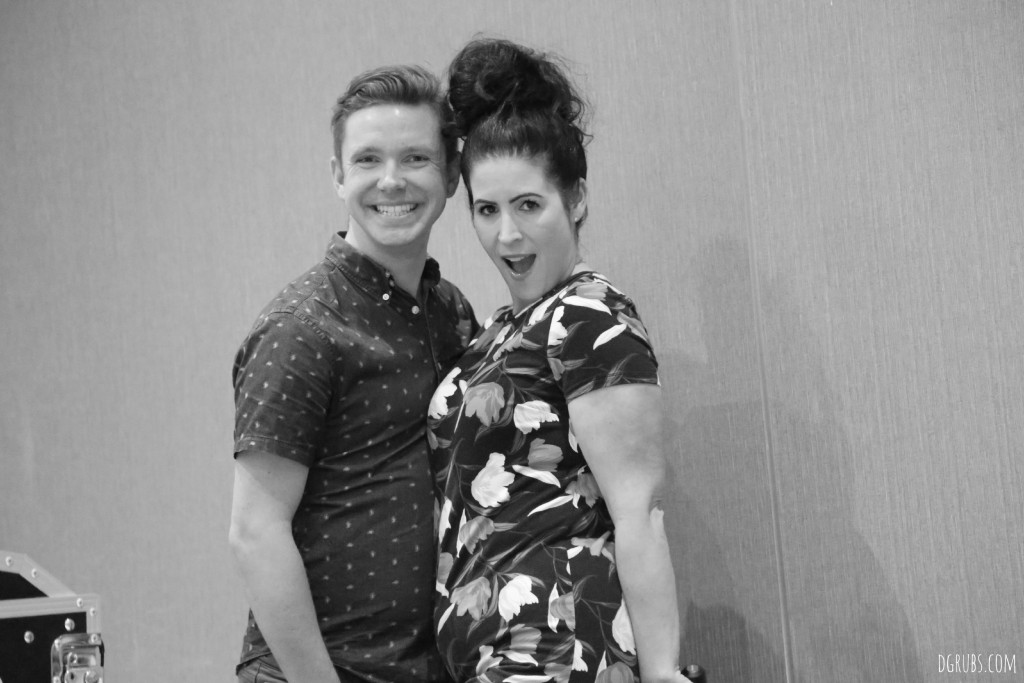 DJ Deja and Modern Gramma's Justin Burke Samson (MA Farmers Market Chair). Make sure to check out Justin's pop ups – his desserts are to die for!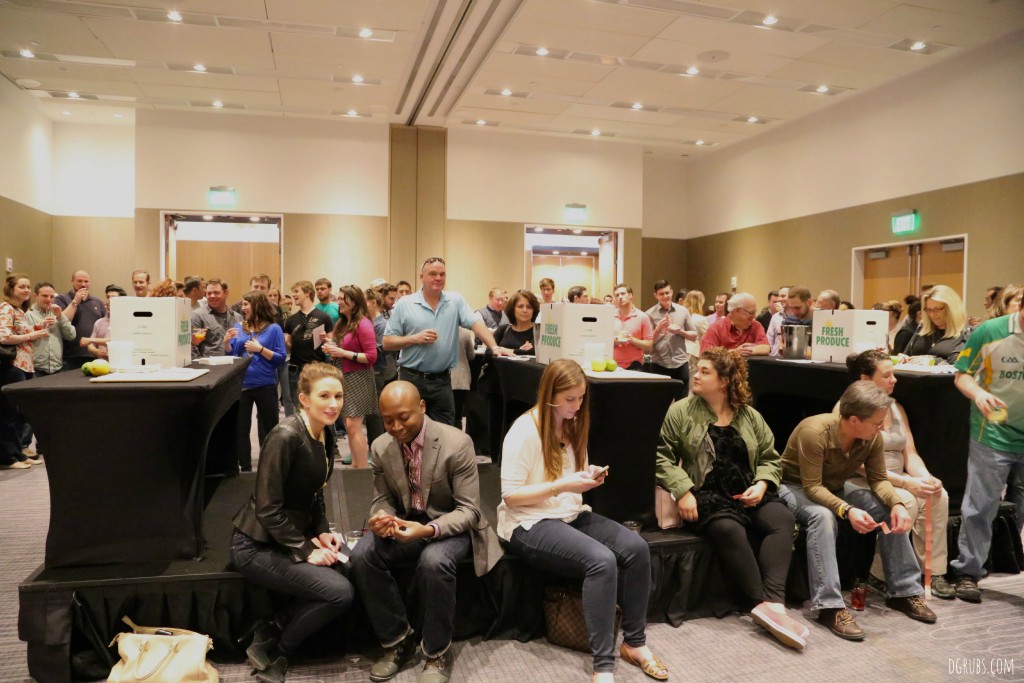 The crowd anxiously waiting to hear who won the raffle items!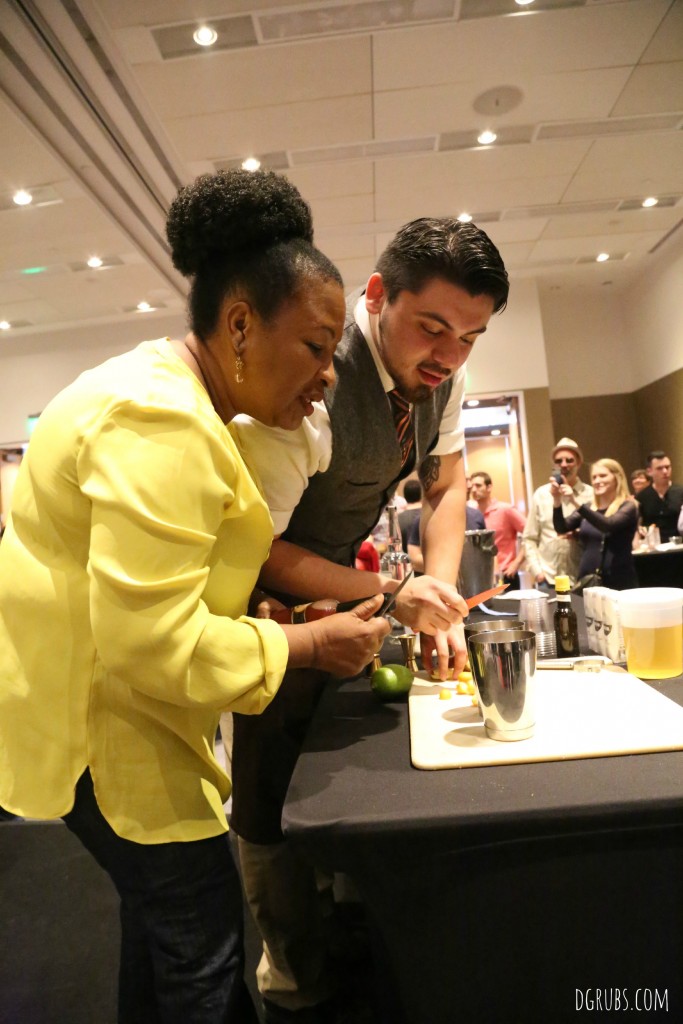 Venette (MFM Board of Director) and Will from Fairsted Kitchen competing in the cocktail throwdown competition.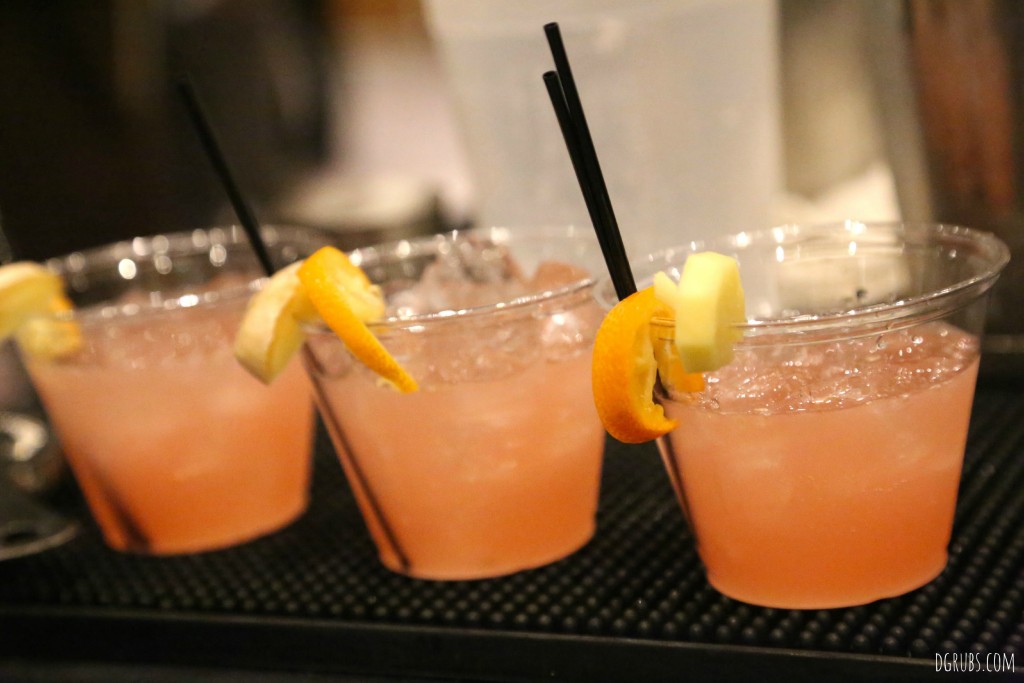 Kirkland Tap and Trotter's final drink in the throwdown competition.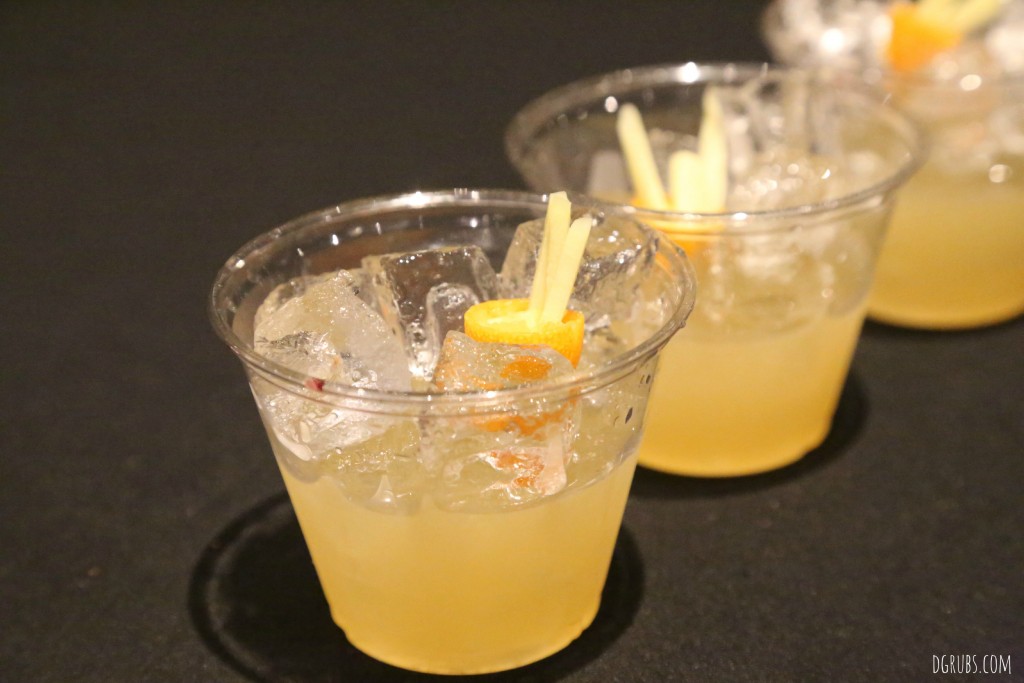 Fairsted Kitchen won the event with the "Sexy Kumquat". As the winner of the competition, Will will be back next year as the head judge. Here's the winning recipe:
1 1/2 oz. Privateer Silver Reserve Rum
3/4 oz. Clove Turmeric Syrup
1/2 oz. Fresh Lemon Juice
1/4 oz. Apple Cider
2 Kumquats
1 Thumb of Ginger
Slice thumb of ginger. Muddle half of the ginger with kumquats. Add muddled ginger and kumquats to shaker with rum, syrup, lemon juice, and ice. Shake for 10-15 seconds. Pour contents of shaker into a rocks glass Garnish with a halved kumquat and ginger.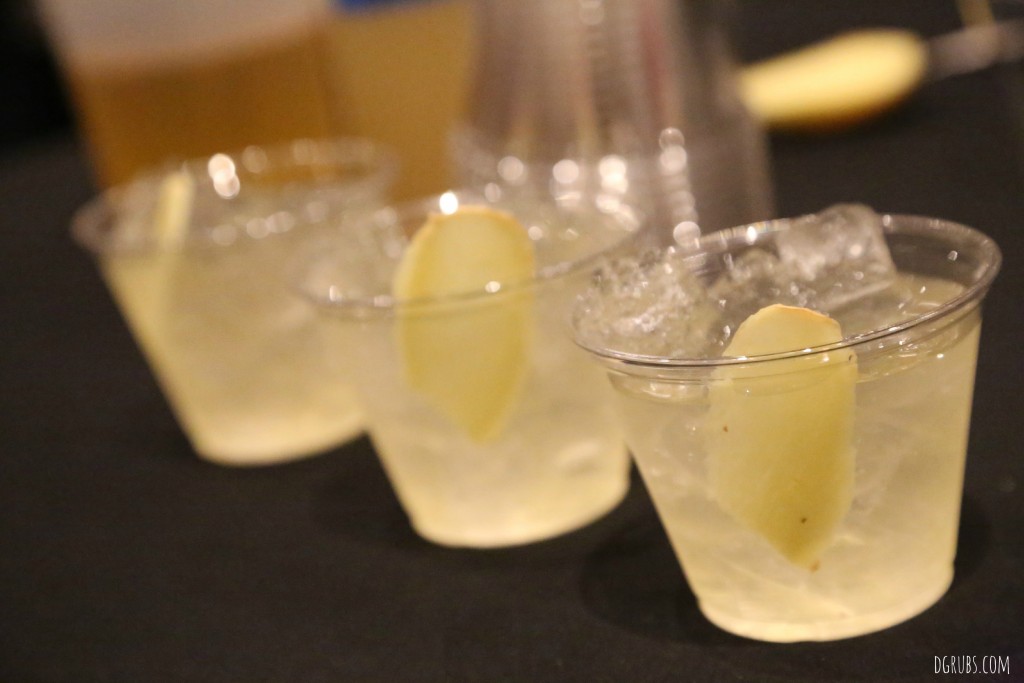 W Hotel's final drink in the throwdown competition.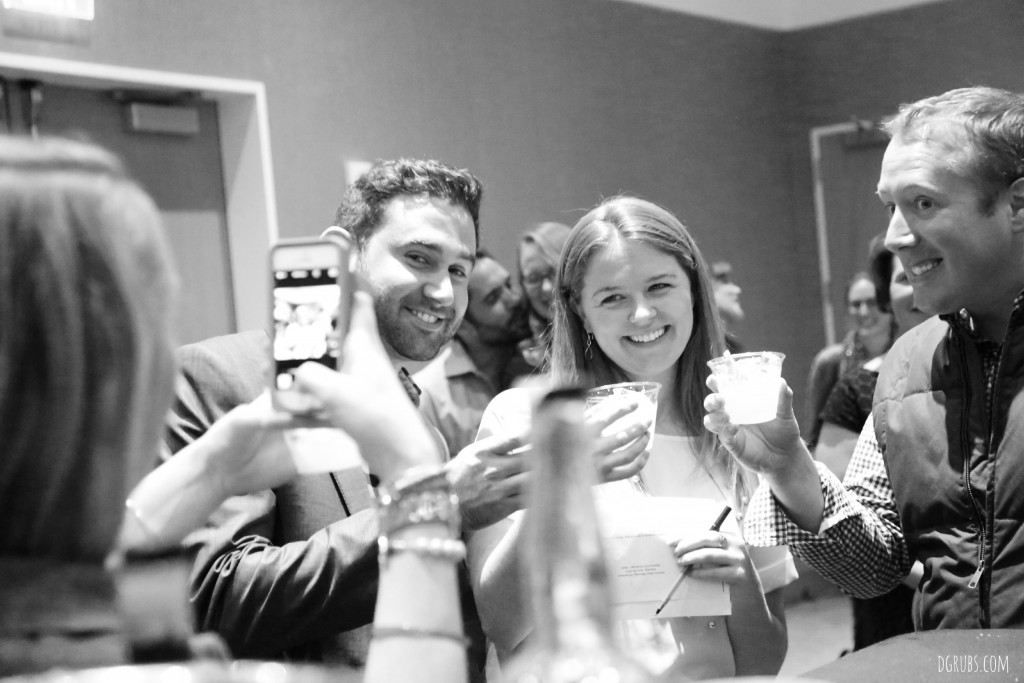 The judges for the throwdown were Dan Whalen, The Food in my Beard, Megan, and Michael Ratty.