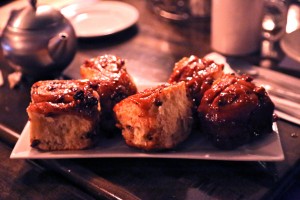 Last weekend, about a dozen bloggers trekked out in the snow to attend a lamb event at Tremont 647. One bite of those morning buns and it was like….what snow? My favorite thing at brunch at Tremont 647 are the home made pop tarts…check out their pajama brunch on the weekends, it's not to be missed.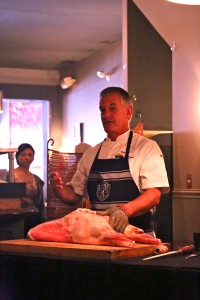 Master butcher Doug Piper flew in from Australia to demonstrate butchering techniques. The ease in which he cut the lamb was impressive – it was like a hot knife through butter. Owner of Tremont 647, Andy Husbands, talked about knives – how everyone thinks you need expensive knives – Shun being a popular choice, but really, all you need is a super sharp knife.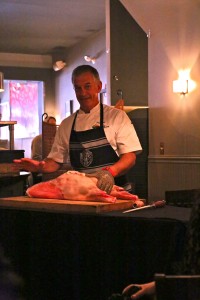 Sharp knife indeed, Doug wore a protective glove on one hand while he showed the different cuts of meat. Generally speaking, I have to admit that I am not a huge fan of lamb. But Australian lamb is 100% free range and pasture raised – who knew that these vegetarian lambs could taste so delicious! The meat is lean, tender and has tons of nutrients.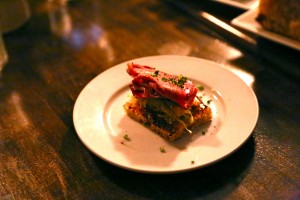 The amuse was Aussie Lamb Pastrami: Rye toast, mustard and Brussels Sprouts krout. A really delicious dish – a spin on comfort food.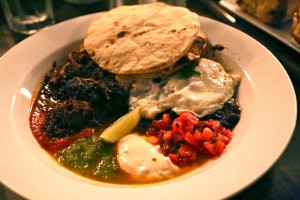 We had a choice of entree: I picked Andy's Huevos Rancheros: Braised Aussie lamb de Birria style, fried eggs, beans, rice, three salsas and tortilla. I couldn't get enough of this dish – so many bold flavors, it was delicious.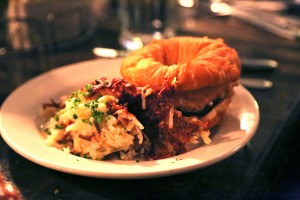 One of the other choices was the croissant breakfast sammy: House made maple Aussie lamb sausage, American cheese, fried egg, roasted garlic herb pistou and hash browns.
Here's a great recipe from Chef Andy Husbands for Lamb t-bones with mint pistou:
Ingredients:
8 – 1″ thick Australian lamb t-bones
Marinade:
1/4 cup olive oil
Juice and grated zest of 1 lemon
1/4 cup roughly chopped parsley leaves
2 garlic cloves, roughly chopped
1 sprig rosemary leaves, chopped
kosher salt to taste
black pepper to taste
Mint pistou:
1 cup fresh mint, chopped
1/2 cup fresh parsley, chopped
1 garlic clove, chopped
1/2 teaspoon red pepper flakes
1/2 cup olive oil
kosher salt to taste
black pepper to taste
Method:
Place the olive oil, lemon juice and zest, parsley, garlic and rosemary in a food processor and puree until smooth. Stir in salt and pepper to taste. The marinade should be a little salty and peppery.
Rub the lamb with the marinade. Cover and refrigerate for at least 1 hour or up to 8 hours. Remove the meat from the refrigerator 30 minutes before you want to grill.
Turn your grill to high and cook chops to desired doneness.
For the mint pistou:
Place all ingerdients in a food processor or blender. Turn the motor on and slowly drizzle oil until you have a smooth, pourable paste. Transfer for a bowl and season with salt and pepper. Cover and refrigerate until ready to use.
To serve:
Top chops with mint pistou and serve.
For more information on Australian lamb: www.australian-lamb.com and check out the hashtag #springaussielamb
Disclaimer: I was invited to be a guest at the Aussie Lamb demo. They provided me with a complimentary meal, all opinions are my own.
Tremont 647
647 Tremont Street, South End
Tags: brunch, casual dining, events, lamb, restaurants, south end