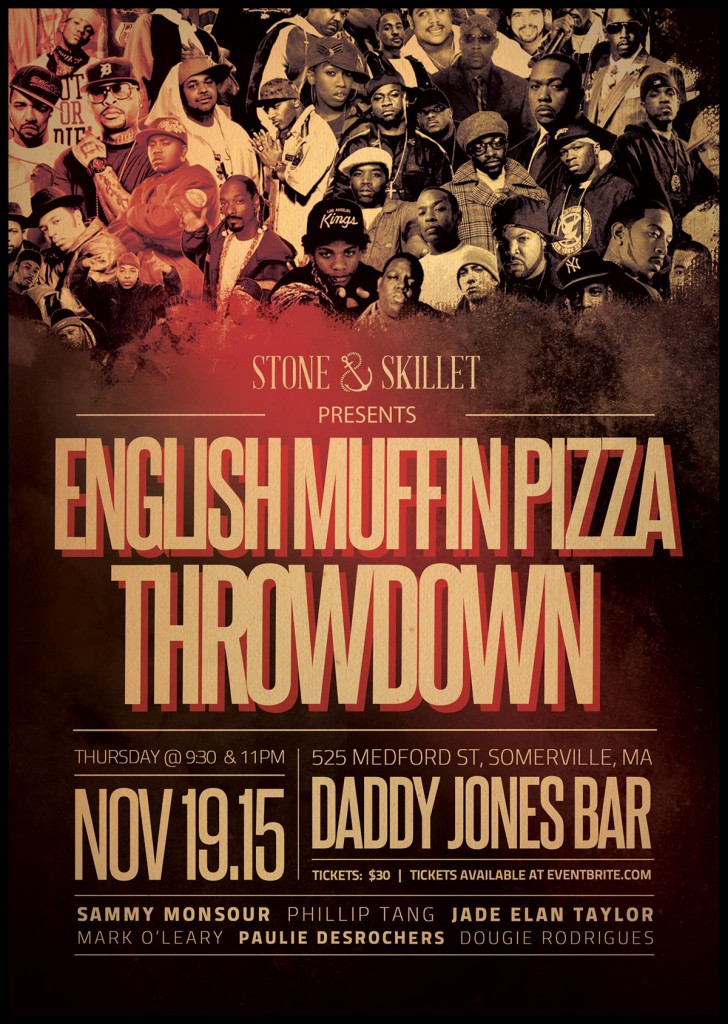 Leah and I headed out well past my bedtime to check out the Stone and Skillet English muffin pizza throw down at Daddy Jones Bar in Somerville. Yup, you read that right, English muffin pizzas! There was old school hip hop playing and plenty of yo mama jokes to go around. Dan Crothers and Kyle Meekins of Stone and Skillet provided the muffins for the event.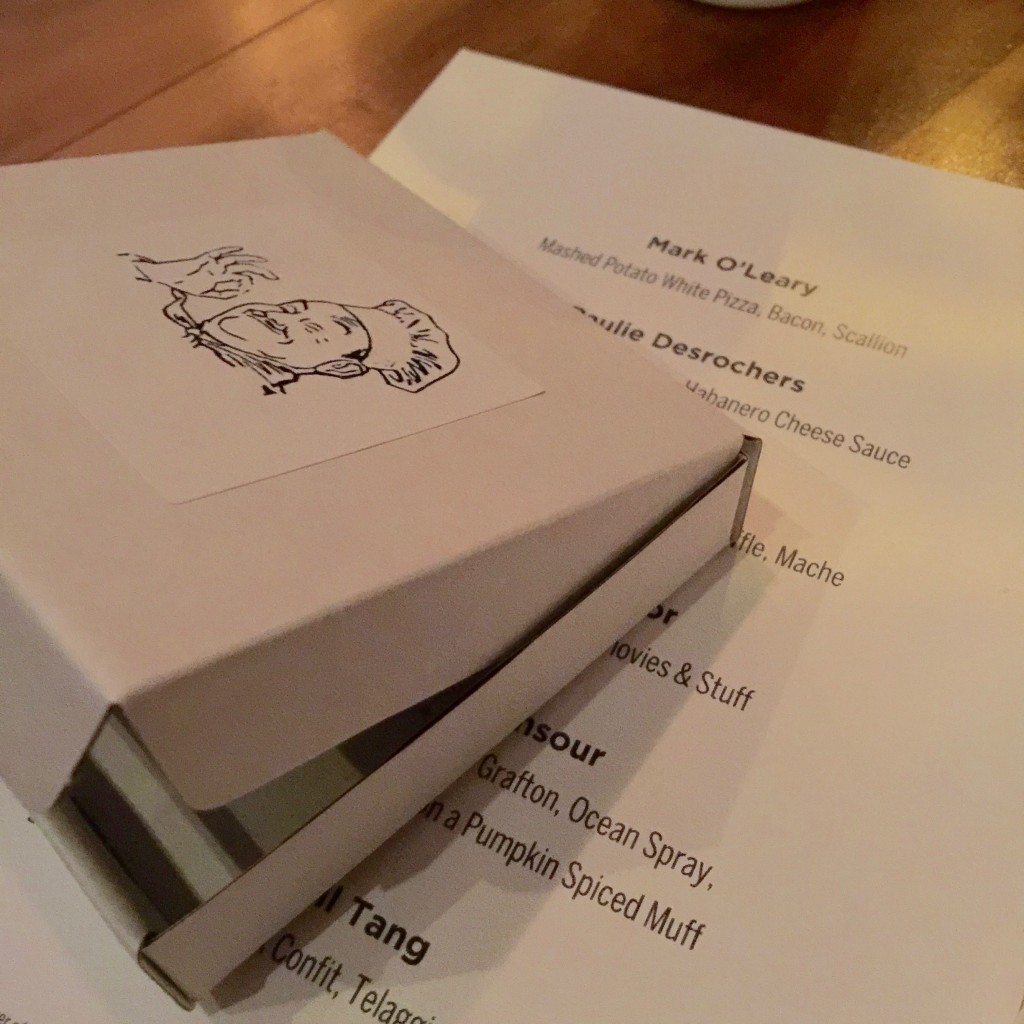 The bar was packed, we got there early and scored a two top in the back.There were some all-star chefs participating, my mouth had been watering for a week with anticipation. Mark O'Leary started the night off – check out how cute those little pizza boxes are!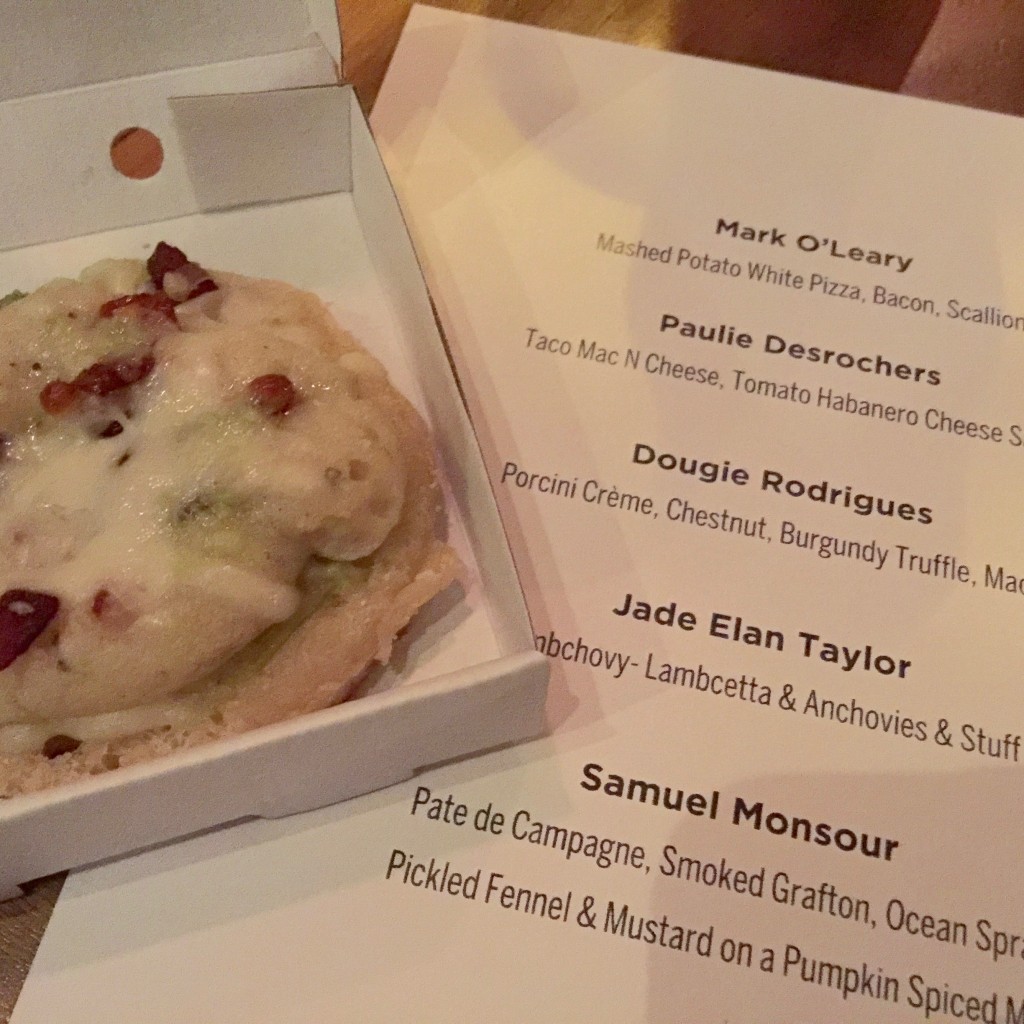 The Shojo chef came out with muffins blazing, serving up a mashed potato white pizza with bacon and scallions. Probably one of my favorites, the kind of thing I'd eat at home if I had the drive to do things like this…and by this I mean turn on my oven. Total comfort food. Not sure how carbs on carbs would be, let me tell you, delicious. Otto pizza makes a baked potato pizza that is pretty darn delicious, you should try it out.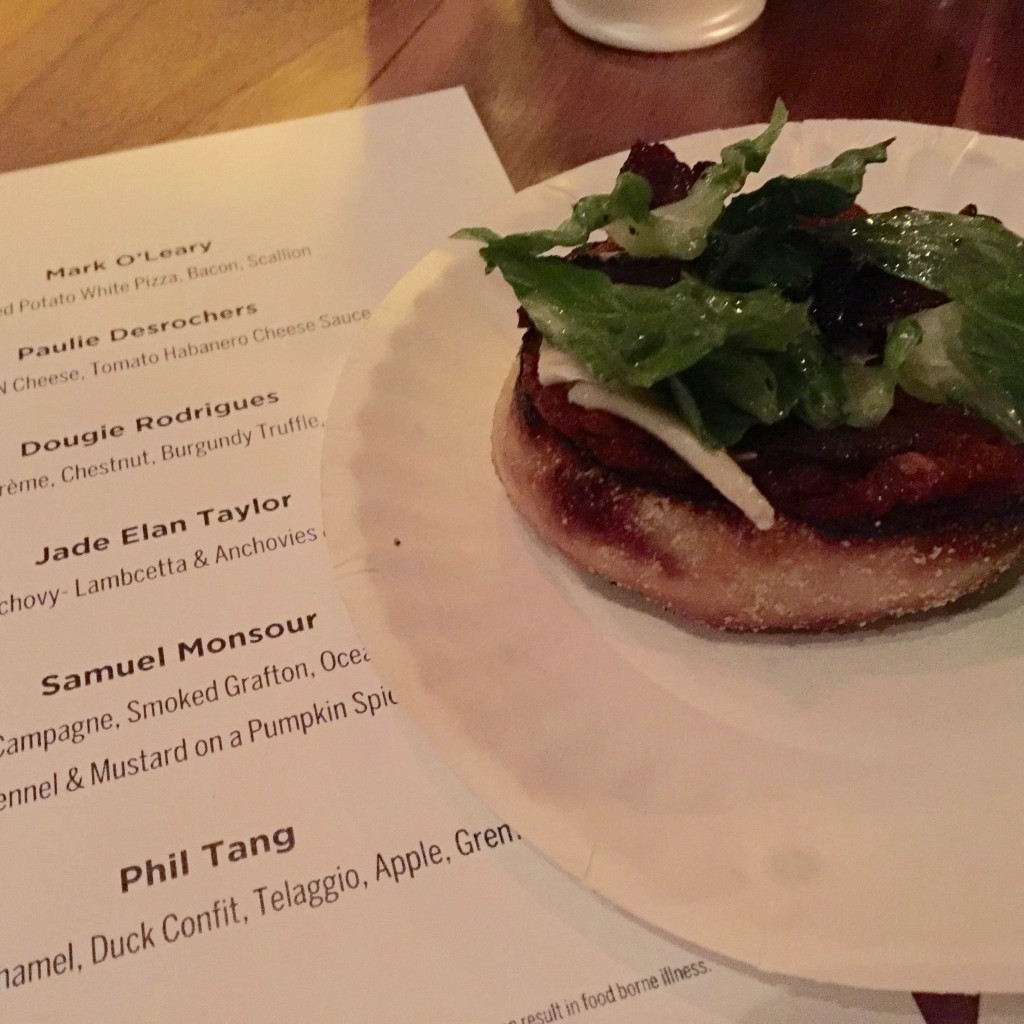 Next up, the only girl in the game, Jade Elan Taylor who works at Asta. I met Jade at a pop up dinner, where she did some serious southern cooking. Jade cooked up a Lambchovy pizza with lambcetta and anchovies. Usually I am down for anchovies, they just add a salty taste to whatever you're cooking, these babies were whole though…had a hard time wrapping my mind around little fish faces….needless to say, Leah got my anchovies, I'm a wimp.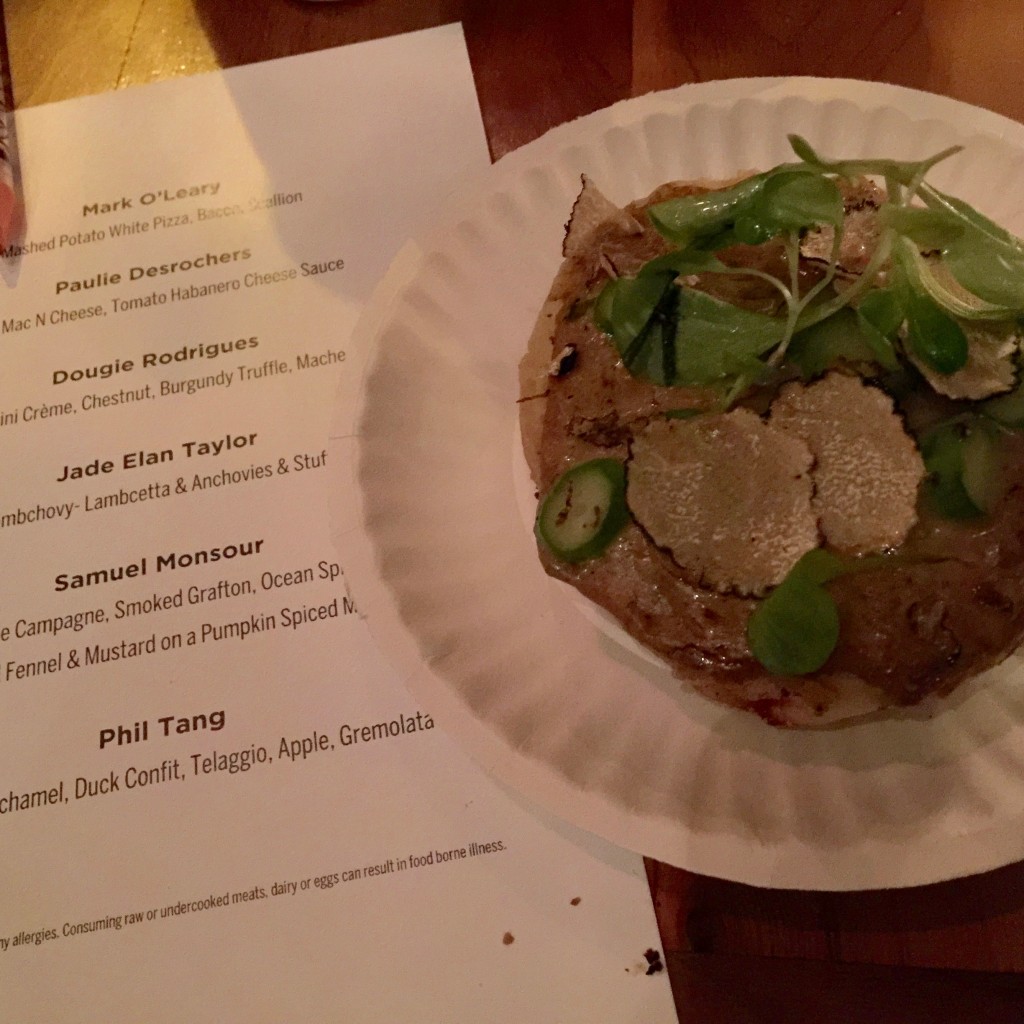 Next up, Dougie Rodrigues, formerly of the Tip Tap Room, but now excited to have him join the Liquid Art House team, replacing Rachel Klein (who will be opening RFK Kitchen in Needham). Rodrigues made a porcini creme with chestnut, burgundy truffle and mache. I loved the flavors here, so rich and decadent! Apparently everyone else loved this as well, because Rodrigues won the gold plated English muffin!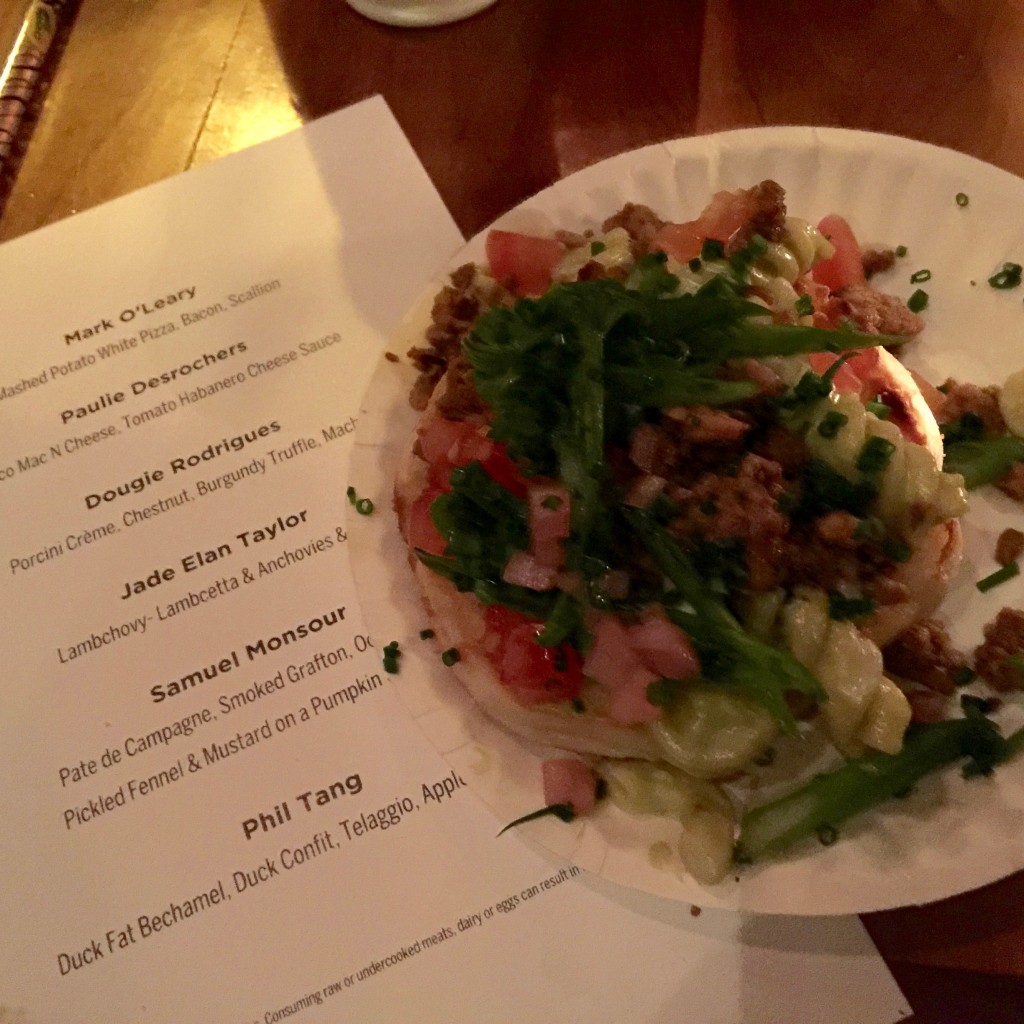 Next up, Paulie Desrochers from Boston Chops brought his A game with his taco mac n cheese, smothered in a tomato habanero cheese sauce. There were a lot of things going on in this pizza muffin, but it all just worked. At this point, we were stuffed, but still had more to go. You always want to pace yourself at these events, eat a few bites of each and save room for the next ones, but they had all been so good, plus, 4 halves are only really 2 muffins, right?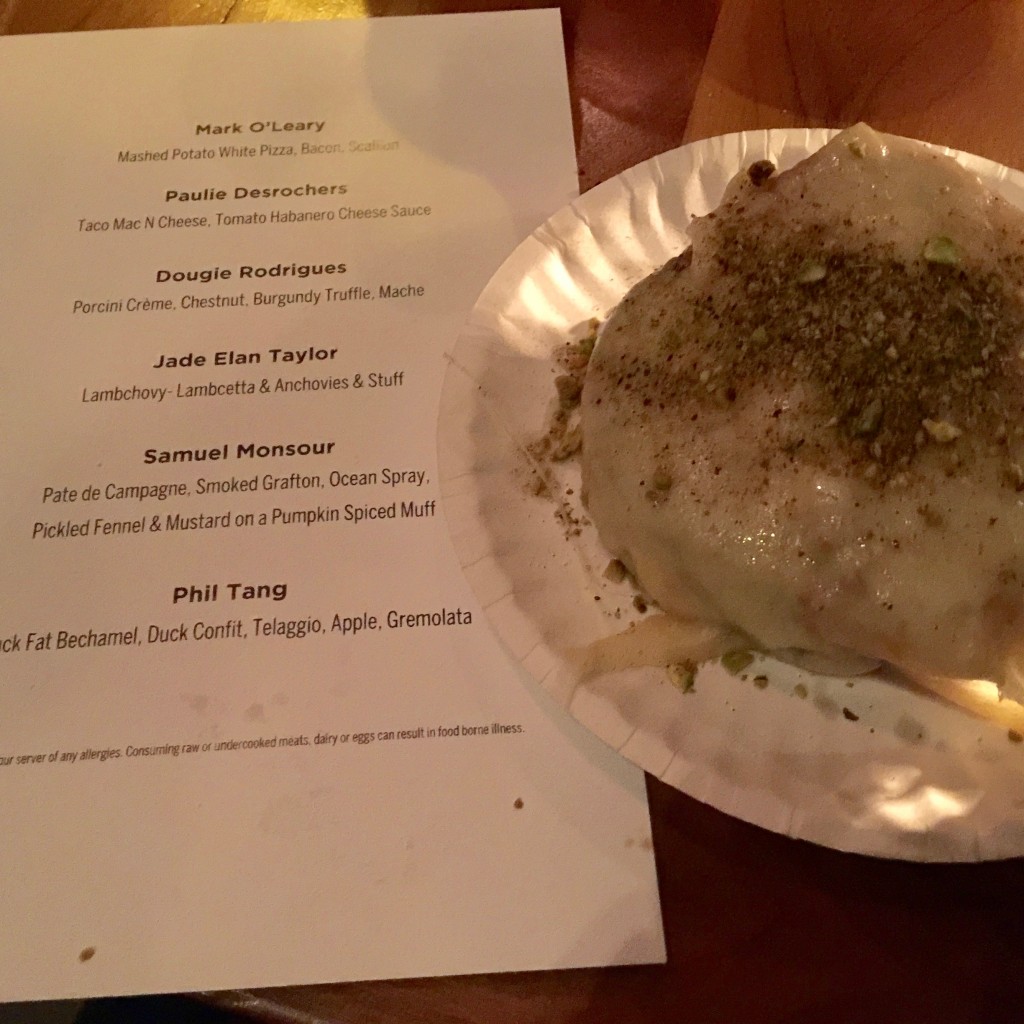 Samuel Monsour, author of American Burger Revival, was back in town, and boy were we glad he was. Monsour brought game with a pate de champagne, smoked grafton, ocean spray, pickled fennel and mustard pizza on a pumpkin spiced muffin. Talk about decadent!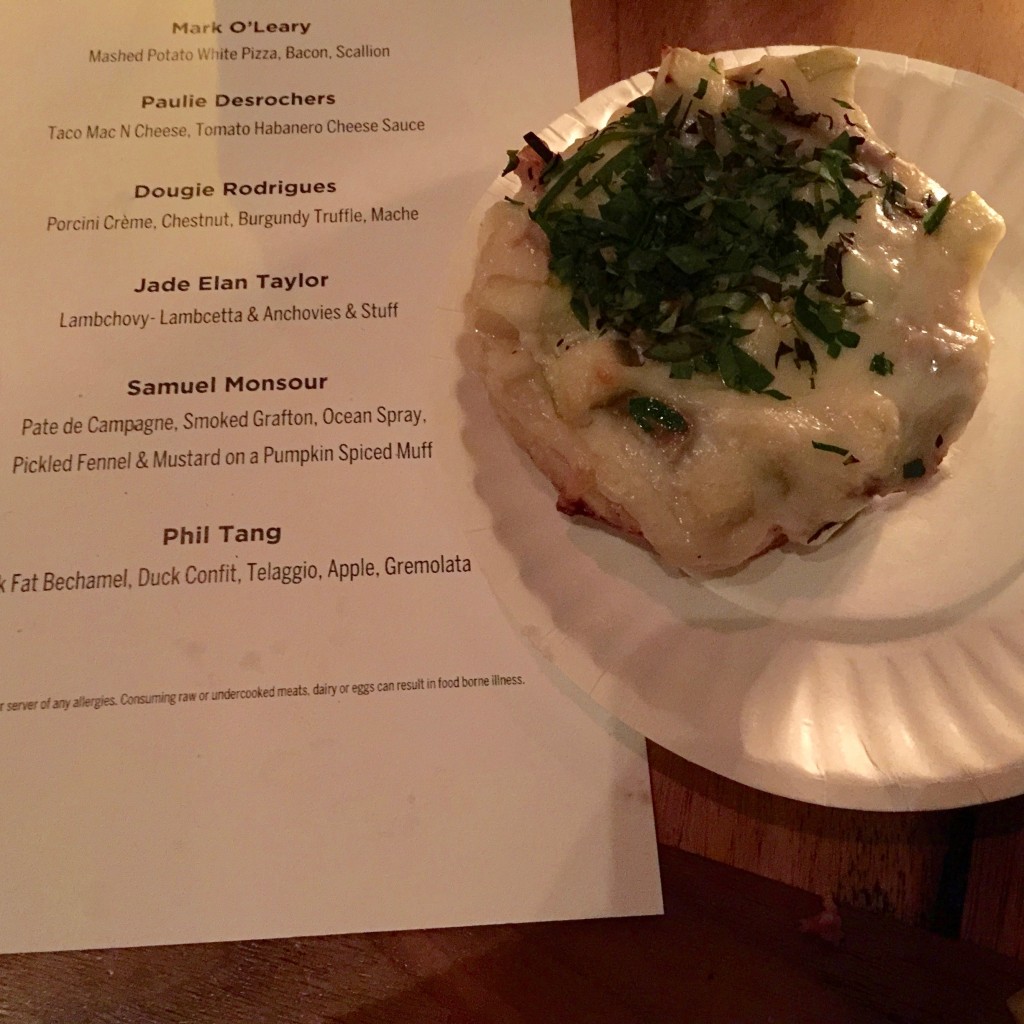 And last but certainly not least, Phil Tang of Banyan and Refuge. He finished the night off strong with a duck fat béchamel, duck fat, telaggio, apple and gremolata pizza. Man are those all the right words, and the pizza was phenomenal. Can't wait to try out Banyan!
Tags: events, somerville