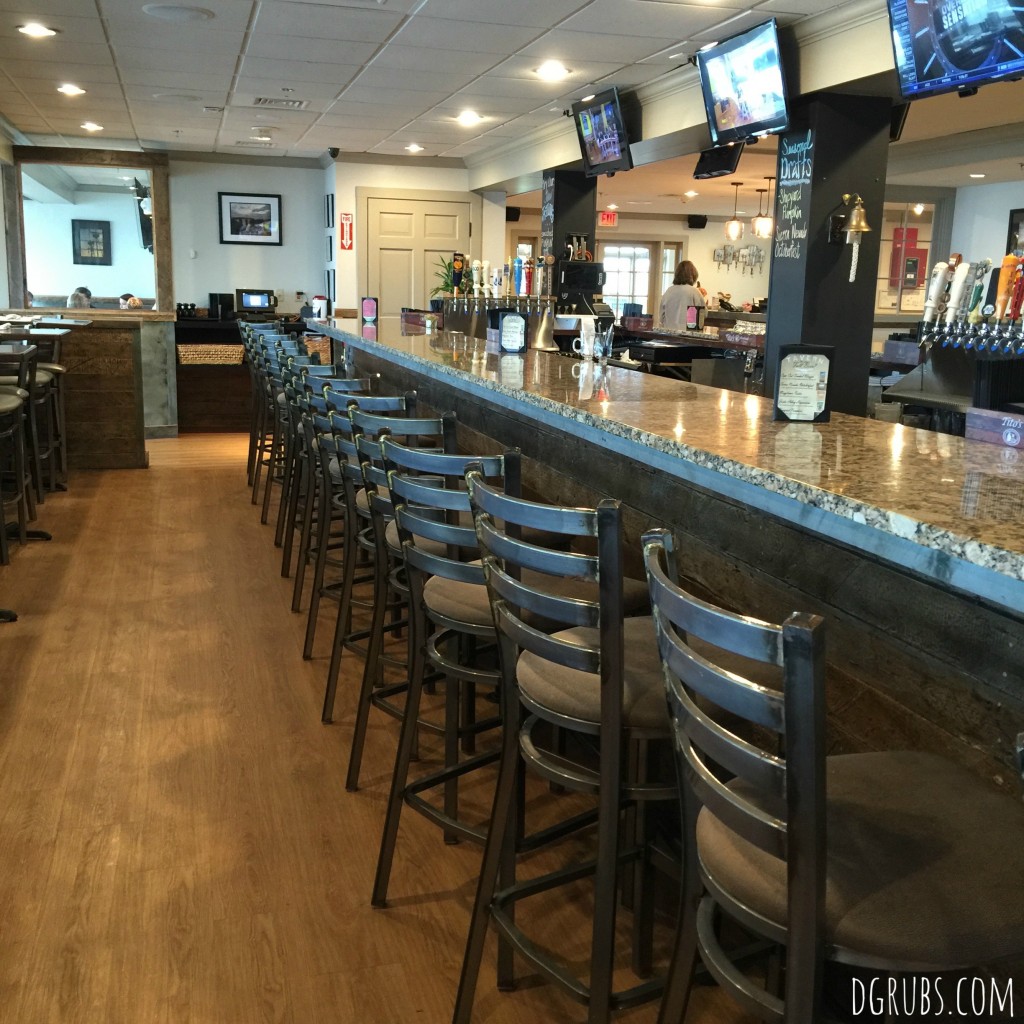 My new thing is tourist destinations in the off season. I was first introduced to Tavern on the Wharf at the Norwell Farms Farm to Fork dinner. I kept dreaming of the short rib dish that I had at the event, so Leah, Robin and I decided to head down to Plymouth and try them for lunch. We always go down Route 24 to the Cape, never go Route 3, so this was a nice change of pace. While the weather was chilly and threatened rain, we still had a great afternoon out! The restaurant is fairly new, less than 6 months old, and has a young chef at its helm. Chef Johnny Sheehan put together a diverse menu and has managed to execute every dish with precision. I was a bit surprised, as he is in his early 30's, but he mentions that he has trained in Ken Origner's kitchens, and it all make sense. It feels like they have found their stride and I can only imagine what it will be like here when summer comes around again!
The main dining room feels open and airy and has great views of the water. Apparently the previous restaurant was all booths. Tavern on the Wharf only kept 2 of them in the back, which was such a smart move. The tables give them a lot of flexibility with their layout – they can handle a large party from 6 or 18 in the main dining room.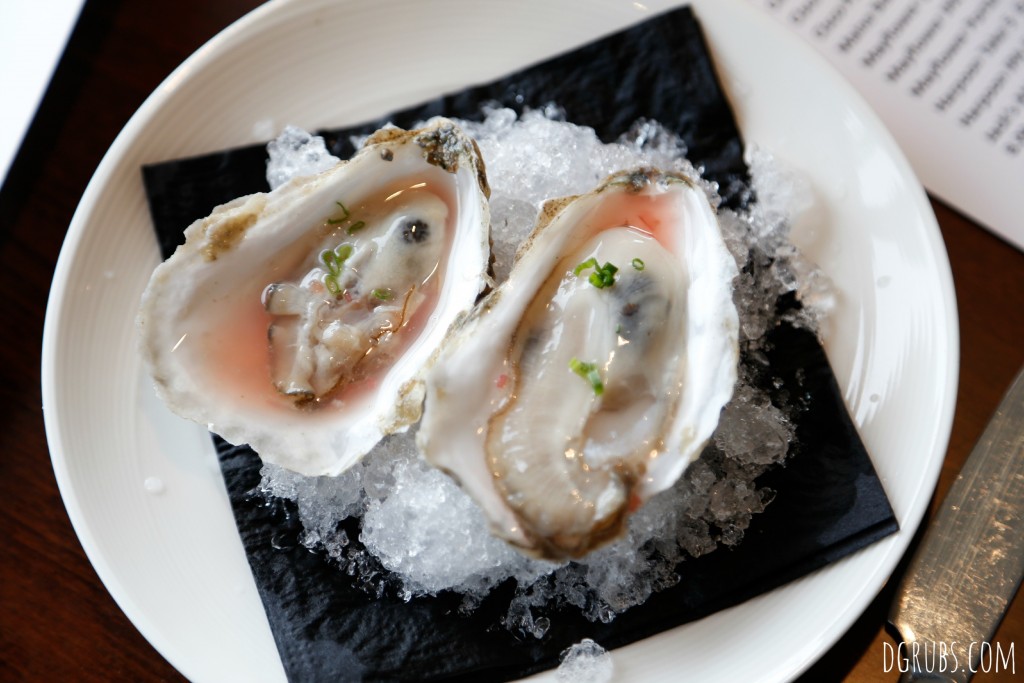 Chef Sheehan put together a wonderful tasting menu for us, showcasing his creativity and the local seafood. We started off with the oysters that tasted like the sea. The oysters come from right off shore, so you know they are fresh!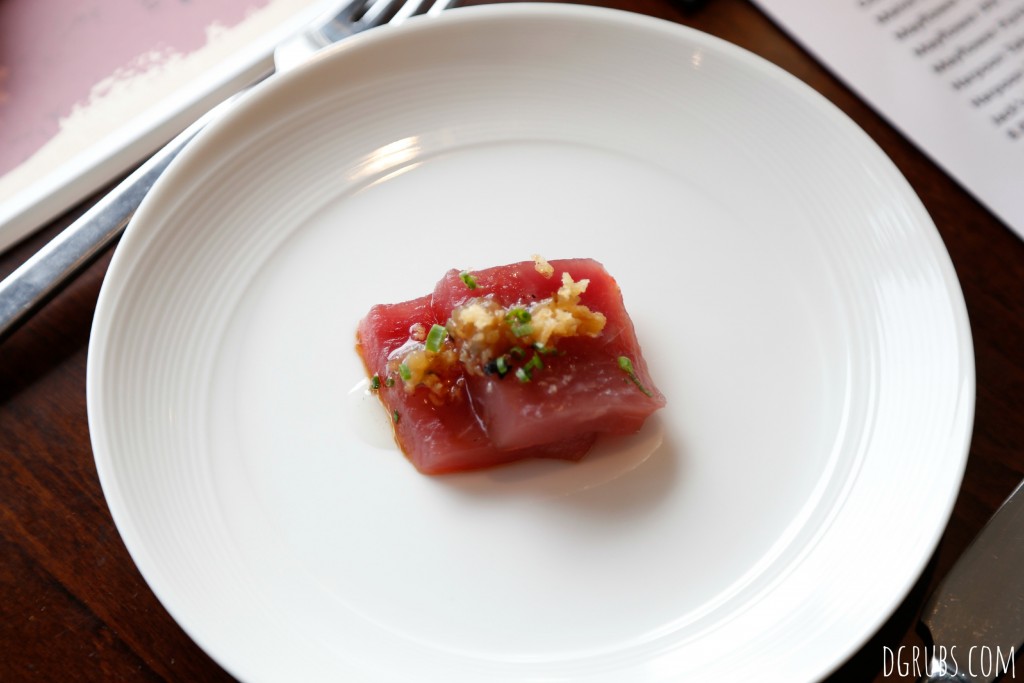 Next up, a not on the menu item, but the Yellowfin Tuna was too good for chef to pass up having us taste. The sushi grade tuna melted in my mouth and had a super clean taste.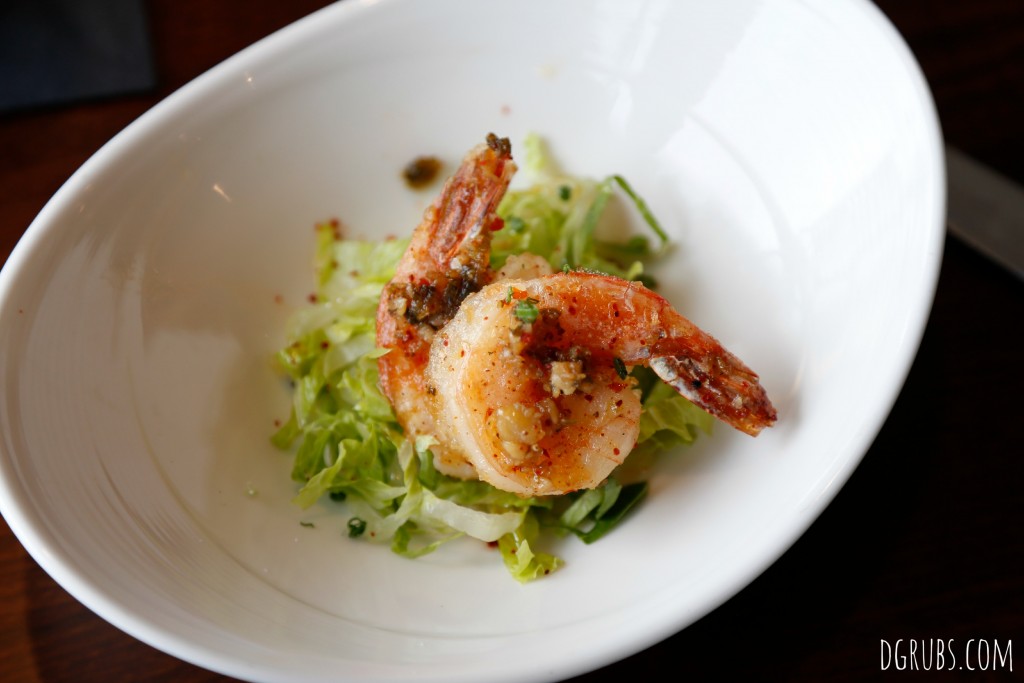 The Szechuan shrimp ($15) comes flavored with Szechuan peppercorn, chili flake, garlic and scallions. I loved the flavor and the little kick the dish had.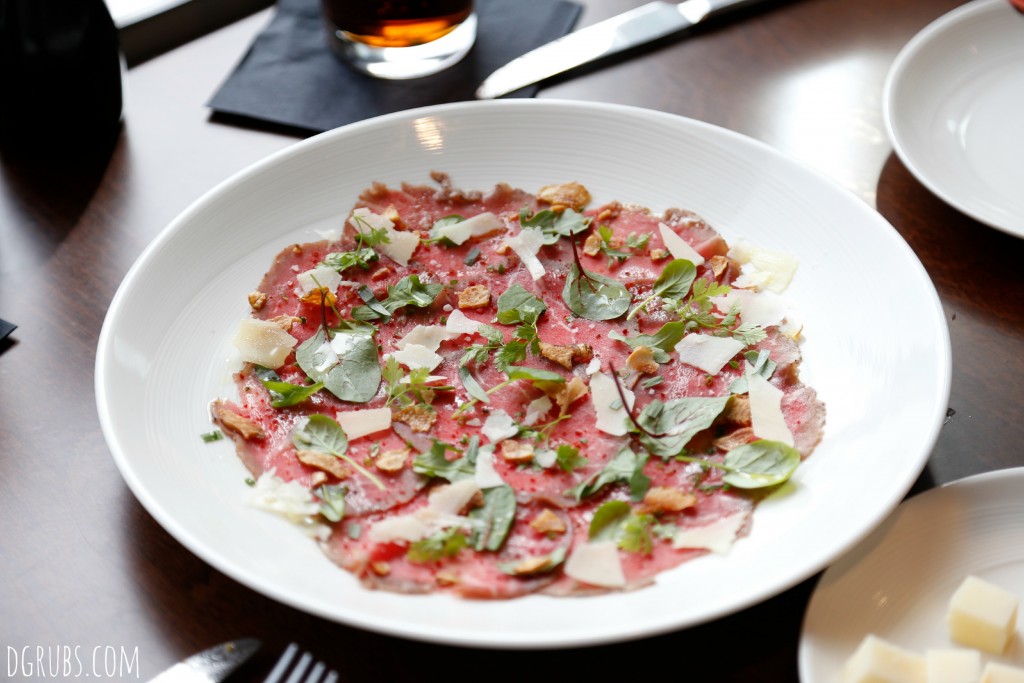 Next was the beef carpaccio ($16), sliced filet of beef (it was paper thin), served with black truffle vinaigrette, Greenway Farm herbs and crispy sunchokes.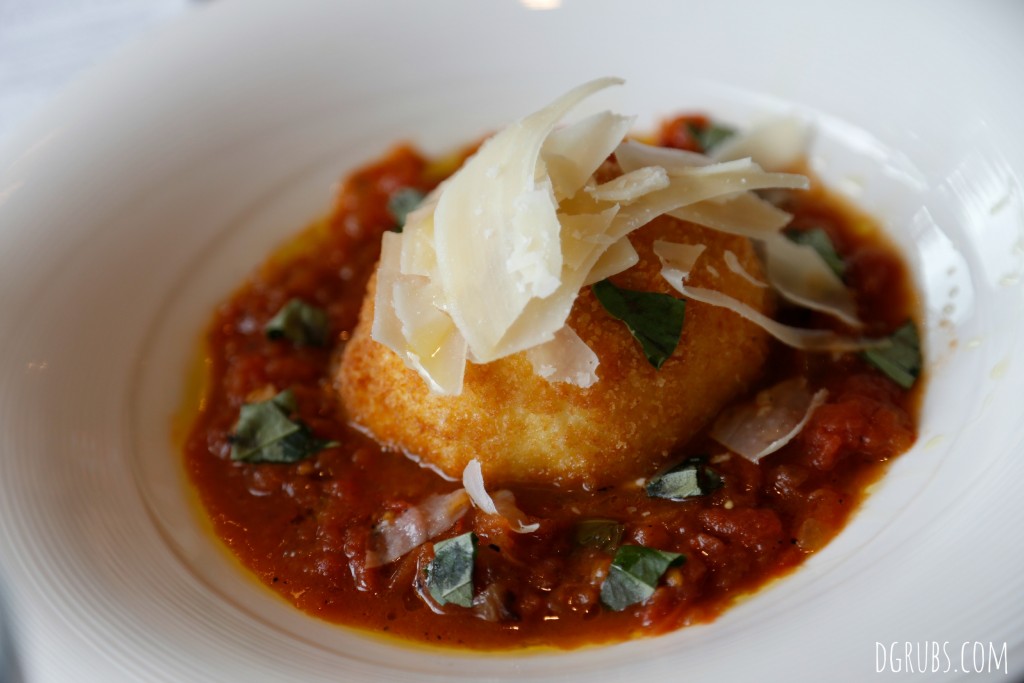 The fried burrata ($10) came out next. I have never seen burrata served this way, it's usually served fresh on a bed of tomatoes. Chef described this as the adult version of a mozzarella stick – a totally approachable way to introduce burrata. The cheese is breaded with a panko crust and served with cream, roasted tomato, olive oil and basil. The roasted tomato in the dish was inspired by an evening meal on the beach, where they threw the tomatoes directly onto the coals to get a wonderful smoke char taste. I loved this dish – such a great twist on a classic.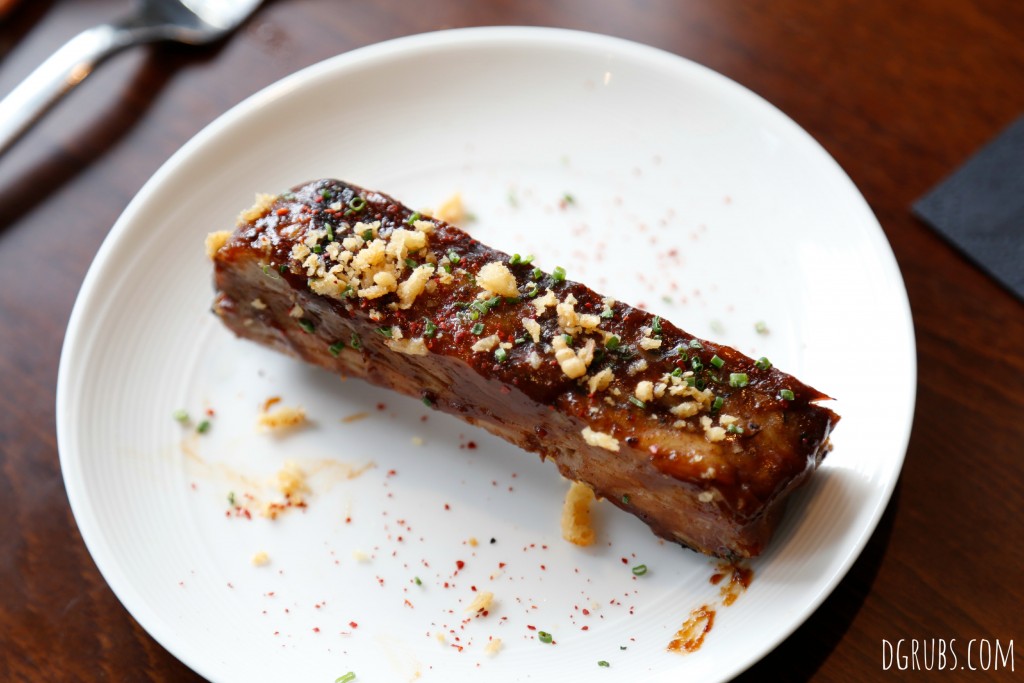 The tamarind bbq ribs ($12) were a hit. The St. Louis style ribs were served with crispy onions and Korean chili. Trying to be lady like, I went at this with a fork and a knife, but the meat was so tender it just fell off the bone (no knife needed). I loved the flavor, a little sweet and a little salty.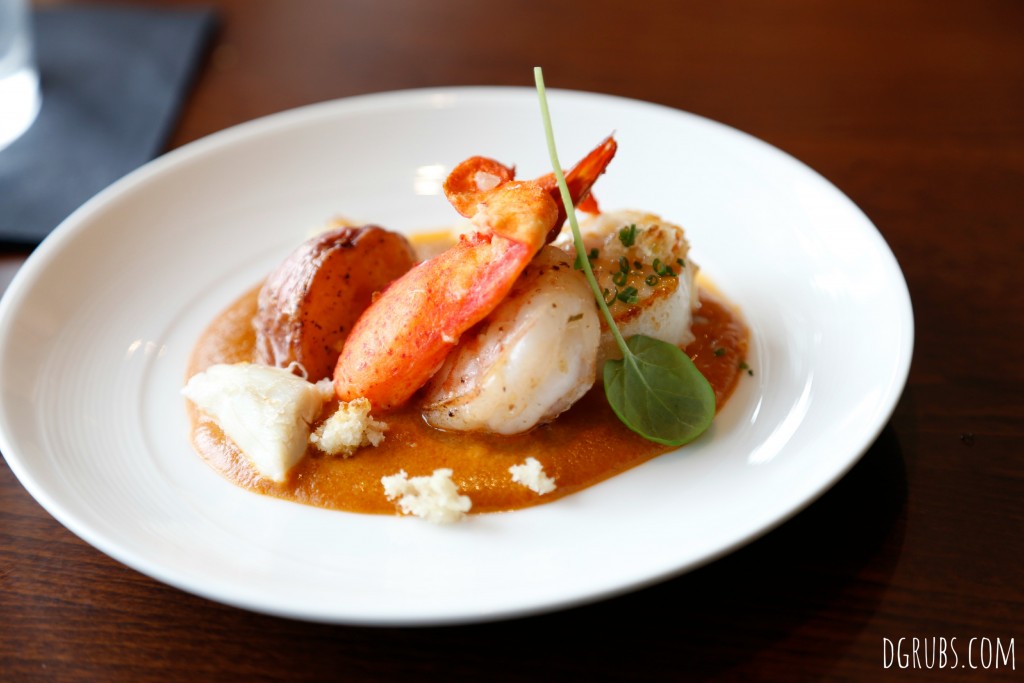 The Portside Biscay ($26) was a great dish, another twist on a classic. Lobster bisque covered the bottom of the plate and was topped with a seared scallop, shrimp, lump Jonah crab and a roasted potato. It was finished off with hand torn biscuit croutons. I started with the potato and fell in love, which only meant great things if I hadn't even gotten to the seafood yet. The bisque by itself was a little salty for my taste (and I do love salty) but was less so when you had it with the seafood.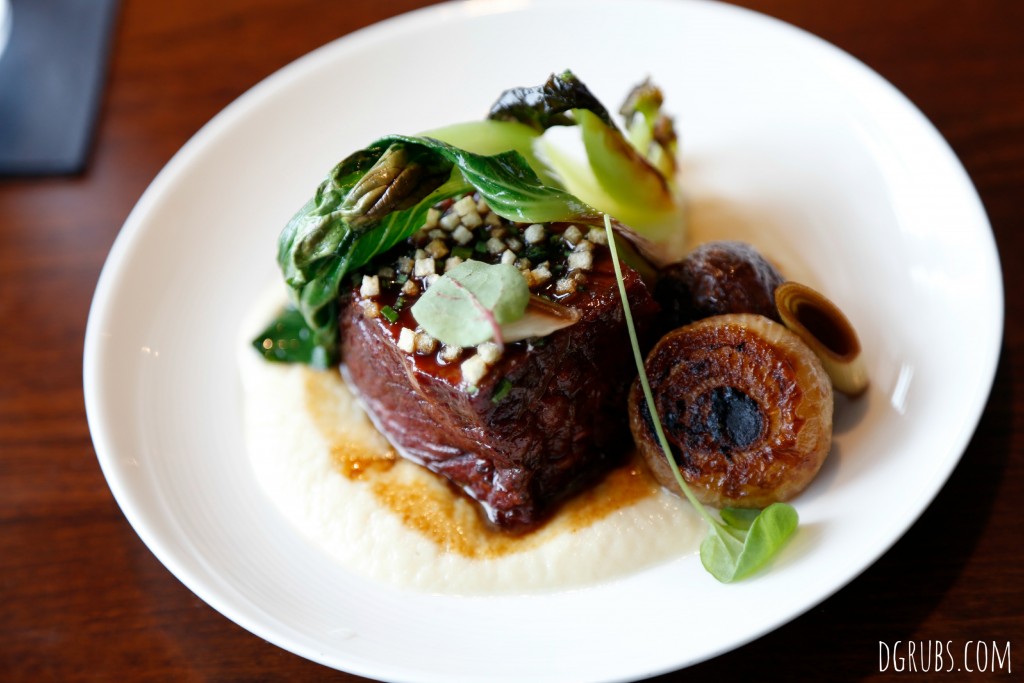 At this point, well probably 3 dishes ago, I was stuffed. I should have worn sweatpants. Chef brings out one last dish with a grin on his face (we are so stuffed but of course we want more!). We were well fed and ready for a nap! Last up is the rootbeer glazed short rib ($26) that comes with a sake infused onion puree, crispy and roasted new potato, a charred cippolini onion and bok choy. He has definitely saved the best for last. The short rib is so flavorful – this is the ultimate comfort dish.
In addition to their main dining room, they have a great back bar – a great place for a party! The artwork on the wall was done by a local artist and the room has great views of the water. Off of the bar area, there is an outdoor patio (seats 80) that they will be renovating for the summer (adding in a bar and accentuating the view). They are open 7 days a week from 11:30am – 1am and they offer live music at night. On Tuesdays they have Italian night that I am dying to go back and try. They offer discounted Italian dishes and a $10 bottle of Cabernet or Pinot Grigio with the purchase of 2 entrees.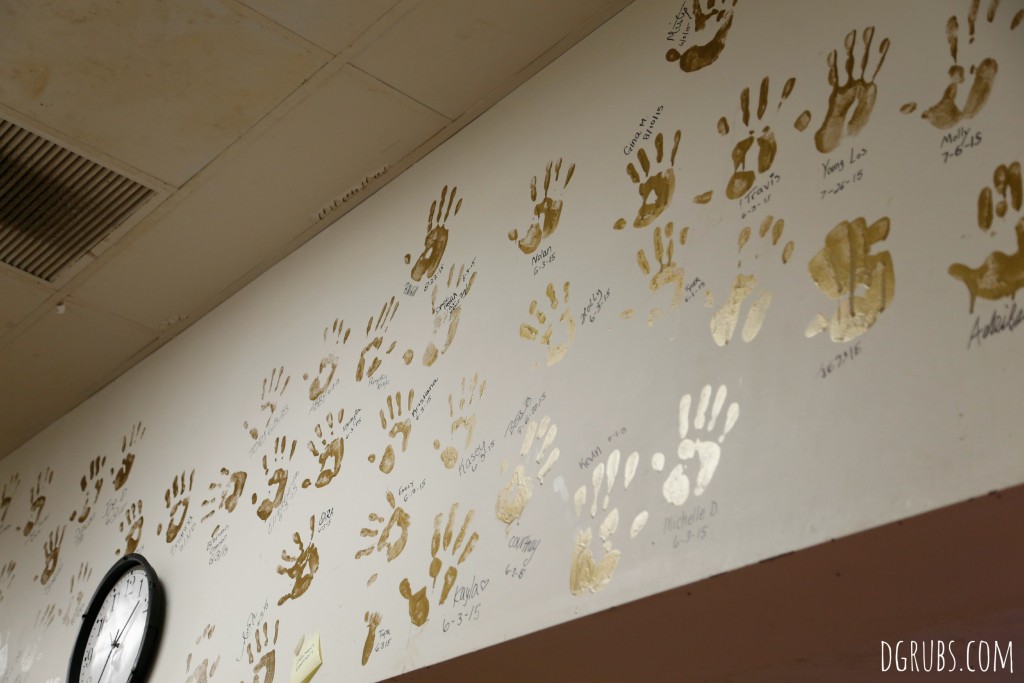 After lunch the general manager took us on a tour of the restaurant. It's not every day that you get to check out behind the scenes in the kitchen. This kitchen boasts a HUGE line, one of the biggest kitchens I have ever seen. Another cool feature is this wall where all the employees leave their handprint. To me, this shows what kind of restaurant this is, one that really invests in its employees. And you know what, it shows. Our server was great, really personable and appeared to really enjoy being here. I can't encourage you enough to head over to Plymouth and try out Tavern on the Wharf – I know that I'll be back soon – tell the bulgogi and the buttermilk fried chicken that I'm coming for them!
Disclaimer: I was invited to sample the new fall lunch menu. My meal was provided complimentary. All opinions are my own.
Tavern on the Wharf
6 Town Wharf, Plymouth, MA
http://www.tavernonthewharf.com/
Tags: burgers, casual dining, outdoor seating, restaurant, seafood, steak